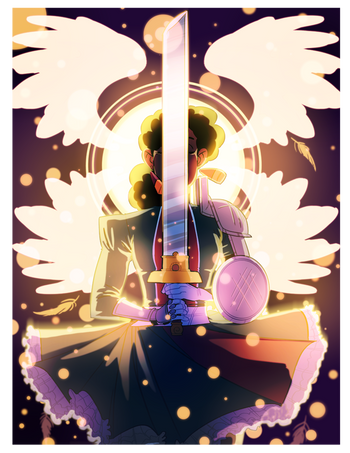 Agents of the Realm
is a
Magical Girl
webcomic set in college. The protagonist, Norah Tanner, finds a strange brooch on the ground one day while walking home, setting off a weird chain of events that eventually lead her to four other women, who all become magical girls with the help of a woman named Jade. Jade has a twin sister named Ruby, who happens to be Norah's teacher in her mythology class, and serves as one of the villains of the story (at least, she's being used by the main villain).
Jade and Ruby both come from an alternate dimension that was once connected to Earth. However, the gem connecting the two planes was shattered, and became the brooches the girls picked up, as well as an identical set on the other plane for five women in the alternate dimension. Only the magical girls entrusted with the special brooch may pass from one dimension to the other, making it a mystery how Jade and Ruby were able to come to Earth.
The comic uploads on Tuesdays and Thursdays. There is a cast page you can see here.
You can read it from the beginning here
, or find the latest page here.
---
Tropes:
---