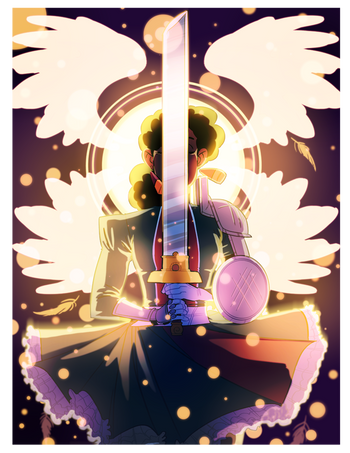 Agents of the Realm
is a
Magical Girl
comic set in college. The protagonist, Norah Tanner, finds a strange brooch on the ground one day while walking home, setting off a weird chain of events that eventually lead her to four other women, who all become magical girls with the help of a woman named Jade. Jade has a twin sister named Ruby, who happens to be Norah's teacher in her mythology class, and serves as one of the villains of the story (at least, she's being used by the main villain).
Jade and Ruby both come from an alternate dimension that was once connected to Earth. However, the gem connecting the two planes was shattered, and became the brooches the girls picked up, as well as an identical set on the other plane for five women in the alternate dimension. Only the magical girls entrusted with the special brooch may pass from one dimension to the other, making it a mystery how Jade and Ruby were able to come to Earth.
Originally published as a webcomic starting in 2014, in 2021 it changed
to an ebook/physical release, with whole volumes being published as they are completed.
---
Tropes:
Always Chaotic Evil: The bleeds' first and apparently only instinct is to attack the Agents.
Amazon Brigade: The Agents are five girls and their mentor, Jade, is a woman as well. The interlude with Camel and Folami implies that on the other side the Agents are also women-only.
Bears Are Bad News: Norah is attacked by a magical translucent spiky bear thing which clearly means no good to her.
Clingy MacGuffin: The amulets tend to turn up when they're needed, even if they were previously being kept somewhere else. Good thing for Norah, too...
Color-Coded Speech: The agents each have their own text color for when they're talking.

Norah = fuchsia
Adele = orange
Paige = purple
Kendall = green
Jordan = blue

Cool Car: Adele has a pretty awesome sports car. Norah is so enraptured with it, for a moment she's afraid to touch it. Fandom also loves it and many wanted it to be part of Adele's transformed equipment.
Crash-Into Hello: Jordan and Kendall bump into each other in the corridor while one carries a beer and the other a phone. This is engineered by Kendall so that she can get to know Jordan and find out why she's working with Ruby.
Evil Is Petty: Ruby in the "Ice Cream Sandwich Bandit" intermission story. Jade and the agents are shopping for ice cream sandwiches, but Ruby has collected the entire store stock in her shopping cartů except for one box which she emptied before leaving it for them to find. And just to rub it in even more, she makes eye contact with Jade and takes a big bite of one of the sandwiches before walking away with her cart.
Frills of Justice: The dresses are admirably nice. Spoofed, however, when the girls pursue the bird-bleed on foot and one of them has her dress entangled in branches.
Girls Are Really Scared of Horror Movies: Played with in variety of ways:

Straight with Mackenzie - she's scared of the horror they're watching.
Underplayed with Kendall - she doesn't like them very much.
Inverted with Jordan and Norah - they both seem to love horror.

Group Hug: At the end of chapter 4, a distraught Jordan hugs Norah in apology for mistrusting her. As Norah awkwardly pats her on the back, Adele beckons everyone to turn it into a group hug, to Norah's consternation. Paige offers Norah an apology as she joins the hug.
Leaning on the Fourth Wall: Paige when she's about to drop four-page long Info Dump:

Paige: This is going to be a hell of an exposition.

Literal Surveillance Bug: LBB - short for Ladybug Bot - is not only the way for Jade to communicate with the girls, but also her method of tracking both Agents and bleeds.
Made of Iron: All the Agents, it would seem - Norah survives being thrown a good few dozen metres and crashing into the ground with no problem.
The Masquerade Will Kill Your Dating Life:

Jordan's called away from Mackenzie on agent business twice—and at the Halloween party, you can see her exasperation.
By Chapter 7, Mackenzie is genuinely upset about things like this and asks for some time apart.
Norah's introduction to Rowan is cut short thanks to a bleed outside.

Mineral MacGuffin: The amulets are shown to be made of parts of the Provenance, a giant purple gem.
Mission Control: Thanks to LBB, Jade is this, as she searches out the bleeds and provides the girls with information on their powers and enemies, especially Ruby.
Mistaken for Romance: Kendall (not in on the secret at this point) thinks Adele and Norah are in a relationship, due to them abruptly leaving the museum in a hurry (they actually leave to fight a bleed).
---