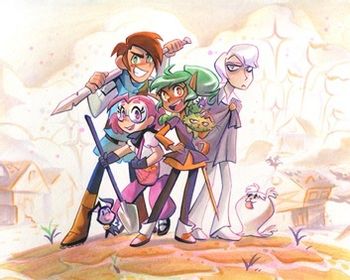 Harpy Gee
is a web comic by animator Brianne Drouhard (producer of the Amethyst, Princess of Gemworld cartoon, among other works).
An Elf, a Witch, a Knight, a Prince, and an Item Shop!
Taking place in a fantasy world that bears more than a few resemblances to an RPG adventure game, the comic centers are a young elf girl named Gigi "Harpy" Geranium, who finds herself in the quaint town of Podunkello after breaking her sword. She immediately befriends Opal, the local witch doctor, who offers her a place to stay and a new job working at her Item Shop. Despite some initial gruffness from the shop's other tenant, naive but eager palace guard Ash, Harpy is eager to start her first day working at the shop. Things seem to go well until the eternally grumpy Prince Humphrey wanders in trying to sell a dumb pooch, unintentionally kicking off a complex adventure in a seemingly simple kingdom that thrives on secrets and debts yet to be paid...
Originally hosted on Dumm Comics, it now has its own page as part of the Hiveworks collective and as of mid 2018 updates on its official site exclusively.
Now has a character page, please contribute.
An an animated short
courtesy of Nickelodeon Animation Studios was released in 2018. The short was the pilot for a since-passed on animated series.
---
Harpy Gee has the following tropes
---