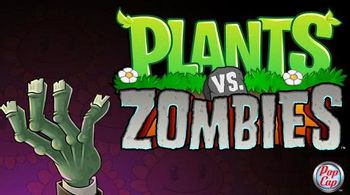 There's a zombie on your lawn,
There's a zombie on your lawn,
There's a zombie on your lawn,
We don't want zombies on the lawn.
Plants vs. Zombies is an incredibly-addictive Tower Defense game from PopCap Games. It's about plants fighting against a zombie invasion. This game has a free version that you can play right on your browser here
.
Zombies have risen from their graves, and seek to eat your brains. However, you find a most unlikely, but trusted ally in your own front lawn as you plant various organic defences against the undead legions, and are also given advice and supplies by your neighbor Crazy Dave.
The zombies won't go down easily, however, and are constantly thinking up new ways to breach your defences, including screen-door shields, pylon helmets, microphones, pushing stuff, laser skulls of doom, pole vaulting, and zombonis that pave the way for an undead bobsledding team.
Yeah, it's that kind of game.
The game was first released for the PC. Later, a version of it was made for the iPhone and iPad. A faithful version was later made for Xbox Live, adding a multiplayer mode. After that, it was ported to the DS, with somewhat watered down graphics due to the DS's low-res screen. There's also an Android version, and it was the deal that catapulted the Amazon Appstore to a serious competitor to Google's Android Market (although as of December 14, 2011 the Android version is available on both of them). There's also a PlayStation Network version.
---
Plants vs. Zombies and related media include:
Video games (main series)
Plants vs. Zombies (2009) — The original game, with all its tropes covered by this article.
Plants vs. Zombies 3 (2019) — Another free-to-play mobile title in the series. It was launched in a pre-alpha state for Android in July 2019 and soft launched in March 2020. Now with 3D graphics and some new features, such as the ability to connect with friends to share items and the new "Tacobillity" feature. The player has to climb the zombie-filled Devour Tower while also driving back the other zombies at various locations.
Video games (spin-offs)
Plants Vs. Zombies Garden Warfare 2 (2016) — Thankfully, this was rectified in the sequel, which launched with fewer microtransactions, as well as polished gameplay.
Plants Vs Zombies: The Last Stand (2015) — An Arcade Light Gun Game released by Sega. It puts the player at the control of a cabinet-mounted Peashooter to stop advancing waves of zombies. Not to be confused with the Last Stand minigame.
Use Your Brainz EDU (2015) — An educational version of Plants vs. Zombies 2 developed by GlassLab Games
Plants vs. Zombies: Heroes (2016) — A mobile game featuring plant and zombie-themed superheroes battling each other through card game system similar to Hearthstone.
Tabletop games
Risk: Plants vs. Zombies (2013) — A two-player only version of Risk with three play modes: mission objectives, tower defense, and total domination.
Comic books
Plants vs. Zombies: Lawnmageddon (2013)
Plants vs. Zombies: Timepocalypse (2014)
Plants Vs. Zombies (2015-)
Plants Vs. Zombies: Garden Warfare (2015)

Plants Vs. Zombies: Garden Warfare (2018-2019)
Literature
Plants vs. Zombies: Brains and the Beanstalk (2013) — A comedic retelling of Jack and the Beanstalk.
Plants vs. Zombies: The Three Little Pigs Fight Back (2013) — A comedic retelling of The Three Little Pigs.
Plants vs. Zombies: Plant Your Path (2013)
Plants vs. Zombies: Brain Food (2013) — An activity book.
Crossovers
The Peacebloom VS. Ghouls mini-game in World of Warcraft is based on PvZ, and completing all of its stages earns you a Sunflower as a non-combat pet that follows you around.
The series has also made its way into The Sims 3, in which pre-ordering the Sims 3 Supernatural (Which has zombies) you can unlock Peashooters to fight back. As well as unlock zombie based clothing, such as the cone hat. The Sims 3 store also released a greenhouse with a sunflower that produces sunlight which can be used to make plants grow better.
Finally, they costarred with Angry Birds in a Edutainment Game to teach programming [1].
---
THE TROPE-IES ARE COMING!!!!
---
The tropes ate your brains!
NOOOOOOOOOOOOOOOOOOOOOO!!!
---