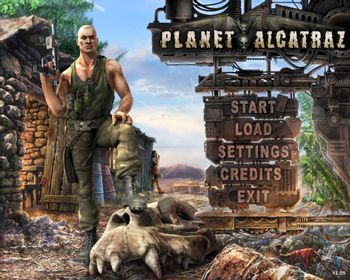 In 2006, the Russian game developer and publisher 1c Games released
Санитары Подземелий
(Sanitary Podzemeliy - literally "Orderlies of the Dungeon", but "Dungeon Cleaners" is more accurate: the name comes from a Russian saying that a wolf is an "Orderly of the Forest" for eating the old and ill animals, while healthy ones evade its grasp). The game was popular and, sure enough, was given an English translation and voice acting, then released to the rest of the world as
Planet Alcatraz.
Unfortunately, due to the game having been written almost entirely in Russian prison slang, said English translation, which evidently was somewhat quickly rushed out the gate,
is considered absolutely incomprehensible
.
In 2008, it also received a sequel, titled in Russian as Санитары подземелий 2: Охота за черным квадратом (Sanitary Podzemeliy 2: Okhota za chernyum kvadratom: i.e. "Hunt for a Black Square", in reference to Malevich's infamous Black Square painting
, which had long been a meme in Russia). Since Western audiences mostly lack that context, it was again simply titled as Planet Alcatraz 2.
The game is set in a distant alternate future where the Russian Empire is on a decades long space war with the Fourth Reich, and humans have discovered zero-transportation. Achievements in robotics as well as organ cloning have made criminals with life sentences completely unnecessary for society. Thus, they are exiled to one of the Empire's 50 prison planets, at the far reaches of the universe.
Sailor's Silence (Planet Alcatraz in the English version; essentially, it replaced the name of the most infamous Russian prison with the most infamous US prison) is the nickname given to planet 2-4A33713/2, which houses the most dangerous criminals that had received life sentences. In 2507, planetary agents received intel that the criminal inhabitants of Sailor's Silence are building a spaceship to escape. To verify the existence and find the location of the spaceship, 4 saboteur cadets along with an experience Sergeant were sent to the planet disguised as convicts. The four cadets are among the top students of Deathmatch Imperial academy, and this mission serves as their final exam. However, something went wrong during the dropping of the containment pods, and the five were separated. The player takes control of cadet Boar, and proceed to find his remaining team-mates and complete the mission.
Planet Alcatraz is a Real-Time with Pause tactical RPG. The character progression system is notably similar to Fallout, with the similar stats, traits, skills and perks. The main quests are mostly linear, though there are an abundance of sidequests to undertake. The game's tone is decidedly dark, with stuff like drugs and slavery being referenced and featured prominently, and racist jokes and remarks abundant (although most of which are cut from the English translation, or just Lost in Translation).
A Let's Play of the game, created by bhlaab, can be viewed here
and another one here
The creative idea for the game belongs to Dmitry Puchkov, a popular Russian translator, whose experiences as a former police detective give him an insight into the criminal world. He was consulted heavily during the development, although Executive Meddling, of course, happened as well, and some of his more extreme ideas were not implemented (e.g. more gay sex, no women). The game borrows its original name from Puchkov's novel set in the world of Quake, written decades ago. It also features references to some of Puchkov's Gag Dubs.
The original version is also known for its soundtrack, featuring "The Song of the Space Marines", which showcases some of the team members, as they prepare for the mission. See a rough translation of the chorus below:
[We] passed a hundred roads on a hundred planets

We got into trouble hundreds of times

Smile, soldier, now the fun begins

A space marine doesn't take prisoners
---
This game provides examples of:
Action Genre Hero Guy: The Vampire Squad Saboteurs fit the majority of the points - male, white, buzz-cut, shaved or with a Perma-Stubble, service in the military (with them going undercover as convicts), perfect willingness to fight dirty, a propensity to crack jokes and one-liners, generic patriotism, and an appreciation for a good drink. That said, they don't have monosyllabic names, their backgrounds before enlisting in the military aren't elaborated on, and they don't have the authority issues (in fact, the entire game is about them accomplishing a mission). The lack of hair is also justified, as they're pretending to be convicts, who all receive a shave and a buzz-cut before being sent down, with a decent amount keeping the hairstyle.
Adam Smith Hates Your Guts / Karl Marx Hates Your Guts : Averted. With Trade skill at 150 you can buy and sell things at their base price.
All Germans Are Nazis: Averted Trope, local Those Wacky Nazis are heavily Germanic, but several of non-Aryan prisoners have German names, along with the leader of Vampire Squad Saboteurs.
All There in the Manual: All of the game's backstory, as well as introduction to the various settlements on the planet are given in the game manual.
Anti-Frustration Feature: The game has an autosave mode by default, which automatically saves when you initiate conversations with anyone. If you screw up a dialog or have a Non Standard Game Over, you can simply reload that save.
Arbitrary Weapon Range:

The manual handwaves it by stating that the planet's lithosphere contains very little sulfur, making it difficult to make good gunpowder.
All rifles have a hard time hitting targets at point-blank range.

Armor-Piercing Attack: Armor-Piercing ammo is your best bet against Heavily Armored Mook that become more prevalent from mid-game. They do slightly lower damage on non-armored enemies.
Artificial Stupidity: The enemies are only alerted if they spot you, get shot by you, or are called by someone who's spotted you. Watching their buddy's head blown off by a high-powered rifle won't alarm them at all. You can snipe and kill four guys standing next to each other with ease, as long as you kill each of them with one shot, and stay out of their sight.
Arbitrary Gun Power: The only time when Instant Death Bullet occurs is when you make a Critical Hit with Headshots
Awesome, but Impractical: The Achtung Machine gun is among the most powerful weapon in the game, capable of shredding most enemies with a single burst. The downsides is that each burst consumes 10 rounds of 14mm AP, which cannot be bought from merchants, and you can only find around 500 of those in the entire game if you look at all nooks and crannies. In the final area, many enemies carry it and you can find ammo more easily. However, at that point you've had access to Imperial Weapon, which is more accurate and has better damage output than anything else on the planet.
Avengers Assemble: You have to find the remaining three team mates before continuing with the main mission.
Bad Ass Bystander: The machine gun wielding Cannibals in Cannibal Village. They are neutral, but will hurt you badly if provoked.
Bad Ass Crew: The Vampire Squad Saboteurs. What else do you call 4 guys who are dropped into a planet inhabited by prisoners, and kill everything in their way to complete their mission?
BFG: The Kain Machinegun, Achtung Machinegun and Shaitan Rocket Launcher.
Big Brother Is Watching: The surveillance system apparently can see and hear everything our heroes do and say. Letting slip about the mission instantly results in they using the Kill Sat to vaporize everyone in the vicinity.
"Blind Idiot" Translation: The game underwent some hasty English translation that is barely above the level of Google-translated texts. Character and quest names are sometimes switched around, idioms and expressions are translated literally, etc.
Bowdlerise: The English version is a prime example.

Most of the "black", "negro", "Chinese" in front of the noun (slave, man, woman) are cut. Most people are just called "Local".
References to prostitution are cut. Brothels are called bar, club, etc. Prostitutes are changed to local. Also, sexual contents are cut.
The planet settlements are basically scaled up version of prison gang. You have the white, black and yellow settlements (which are actually referred to as black and yellow in the Russian version), and also the Aryan fortress, which houses enemies of the Russian Empire. All these are dubbed over with "Taipen", "Ungan" and "Legion", and all the decidedly German or Russian names are changed into generic (and sometimes bizzare) names.

Breakable Weapons: Firearms and armor have a "condition" (durability) count. When it reaches 0% the item cannot be fixed and becomes useless.
Chunky Salsa Rule: Crits to the head are instantly fatal.
---