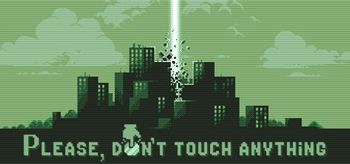 Please Don't Touch Anything is a pixel art point-and-click adventure game developed for Ludum Dare 31 by Four Quarters and published by BulkyPix and Plug In Digital. The idea is that the player is asked to watch a control panel while the person working at it is off on a bathroom break. Aside from a cryptic poster on the wall, you are given one simple instruction: Please don't touch anything. So, naturally, your first instinct will be to play around with things, right?
As of December 7th, 2016, the game has an Updated Re-release on Steam, called Please, Don't Touch Anything 3D. In addition to 3D graphics, the new version includes a room around the panel, small changes both to finding the endings and the endings themselves, and five brand new endings. Every ending is unique in their own way.
A version for the Nintendo Switch is set to release on November 22nd, 2018, with new mechanics, puzzle solutions, and endings.
SPOILER WARNING: A large part of the experience of this game is playing around with different aspects and variables and discovering the various endings for yourself. While spoiler tags will be used wherever necessary, the nature of this game will mean that unmarked spoilers will be rampant on this page. You Have Been Warned.
In Other Words: Please, Don't Read Anything.
---
Please Don't Touch Anything contains examples of:
---