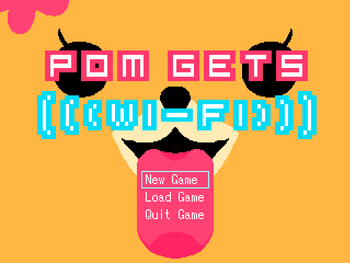 Pom Gets Wi-Fi
is an indie Comedy-RPG about
a Pomeranian called Pom who is desperately looking for internet access
, made in
RPG Maker
2003 and released in late 2013.
Pom has a very easy and simple life surfing the web, but one night, a fire breaks out in her home and the next thing she knows, she is without internet access. Coming upon another dog, Pom learns that she is in fact dead and in doggy heaven.
Undeterred, Pom sets out in search of Wi-Fi. On her quest, Pom is joined by Shibe, a male Shiba Inu owned by the same master, whose life was also claimed in the fire. He will also give out tips when required.
The game is free and available for download here
.
This game provides examples of:
---