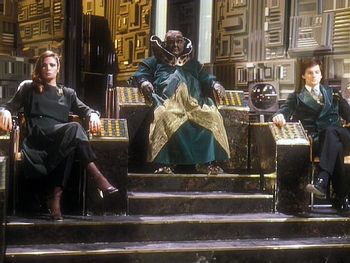 "Now listen to me, you young idiot—you're not so much gullible as idealistic. I suppose it comes from your deprived, delinquent background."
— The Doctor dresses down Adric
Production code: 5W
The one where Adric becomes an idiot.
Peter Davison's first filmed story as the Doctor (the episodes are often filmed out of order).note The explanation given at the time by producer John Nathan-Turner, which is often repeated by fans, is that they wanted to give Davison a chance to acclimatize to the role before filming his debut story. The truth, however, was that this was the only script which was ready to film at the start of production.
Written by Terence Dudley. This four-episode serial first aired January 18—26, 1982.
---
In the first of his continuing attempts to bring Tegan back home, the Doctor gets the date and time exactly right... but is four light-days off, location-wise (so, somewhere in the Oort cloud). Oops. Instead, the Doctor and his companions land on a huge spaceship crewed by the delusional Monarch and his lackeys, the Ministers of Persuasion and Enlightenment. These three Urbankans, or frog-like aliens, travel in the company of four groups of humans: Ancient Greeks, Chinese, Mayan and Australian Aborigines.
Monarch wishes to go back in time before the Big Bang to watch himself creating the universe (he thinks he's God, you see), take over the Earth with those groups of humans in charge... and jack the TARDIS as his own ride for personal enjoyment (shooting for the moon, this one is). Adric shows excellent character judgment and begins sucking up to this raving mad frog alien while Nyssa is taken to be turned into an android (like every single other human who has been taken by the Urbankans, as it turns out). Adric also suddenly shows incredibly misogynistic behaviour, proclaiming that Tegan is "a woman" and wouldn't understand the complicated math behind anything, while simultaneously proclaiming Nyssa an exception because she's "a girl."
Meanwhile, Tegan, who was entrusted with the TARDIS key, ends up losing her cool and desperately attempts to hijack the TARDIS for a ride back to Earth. Completely breaking down emotionally, she actually persuades the ship to dematerialise, only for it to materialise floating in space outside Monarch's spaceship instead. Meanwhile, the Doctor is forced to watch a whole lot of tribal dancing, and sword-fighting, and half-naked men wrestling each other, and spends much of the story rolling his eyes at everything.
In the end, the Doctor sets "young idiot" Adric straight and then goes flying around in space without a space suit (thanks to his Bizarre Alien Biology), but with the help of a cricket ball and The Power Of Dodgy Physics. He rescues the TARDIS, then randomly throws an incredibly deadly poison at Monarch, which doesn't kill him... but instead shrinks him and reveals that he is still part of 'flesh time' and was never fully processed into being a android. The robots announce that they're going off to find their own planet and "start again."
Everyone leaves, and Nyssa conveniently collapses at literally the last second because she originally wasn't written in the next story. (In fact, if it wasn't for Davison's intervention, Nyssa would've been dropped as a companion altogether.) Her sudden collapse gets explained much later, in the Big Finish Doctor Who audio story "Primeval".
---
Tropes
---