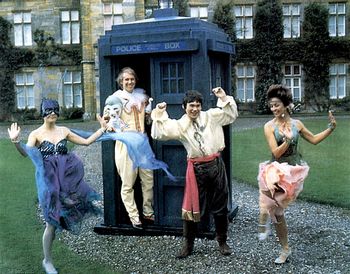 "Why do I always let my curiosity get the better of me?"
The one where the Doctor wears a velvet bathrobe and proves to be fantastic at cricket.
The second serial by writer Terence Dudley, "Black Orchid" is nine-tenths Scenery Porn and Fanservice and one-tenth the plot for said Scenery Porn and Fanservice. Also, it's the first two-part story in Doctor Who since 1975: producer John Nathan-Turner didn't like the six-part stories that had been common up until this point, and was experimenting with different story lengths.
It is also the last "pure historical" (a past-set story with no fantastic elements other than the regular cast's arrival and departure by TARDIS) in the Doctor Who TV series to date, and the only one since "The Highlanders".
---
Landing in
England in 1925
, the Doctor is mistaken for a random friend of Lord Cranleigh, a local high society man, who's having a genteel afternoon of
cricket
followed by a fancy dress party. The Doctor is delighted. He plays a good game, too: his team wins, Tegan enjoys the game, and Nyssa and Adric are mostly confused. The Doctor has a grand time saying "I say" a lot and enjoying the
Genteel Interbellum Setting
.
After playing the game, everyone heads inside for tea and introductions. Nyssa happens to have an exact-clone of herself running around in 1925, apparently, going by the name of Ann Talbot. Of course, the two of them decide to dress up in the same butterfly-person outfit for what will surely be a harmless lark. The others are also assigned costumes: we assume out of spite, because Adric gets a pseudo-pirate getup while the Doctor is stuck with an extraordinarily ugly clown costume and full face mask. Tegan, finally, looks like nothing so much as "Tinkerbell gone nightclubbing". The Doctor befriends Lady Madge Cranleigh (mother of the younger Lord Cranleigh, Ann's fiance). Her other son, Ann's previous fiance, was an explorer who went missing after finding a rare black orchid.
During the costume party, Adric stuffs his face, Tegan introduces glorified extra Sir Robert Muir to Aussie slang (while dulling the pain of being in this story by ordering a large vodka orange) and Nyssa and Ann have everyone seeing double. This ends badly as Ann is assaulted by someone wearing a certain eye-wateringly hideous clown suit and full face mask - before you ask, no, it's not Colin Baker; that's later. It can't be the Doctor, because he's done what he does best - snooping: he's donned a nice revealing chamber gown and is wandering through a secret passageway into a disused corridor, where he finds a dead body. He also eventually finds Lady Madge Cranleigh, who leads him back upstairs and extracts a promise from the Doctor to keep utterly silent about the whole thing for reasons no viewer or fan can begin to comprehend.
This absence, of course, means that the Doctor is an extra-suspicious suspect in the attack on Ann, once he's changed into the clown suit and gone downstairs to join the party. The Doctor makes some lame excuses as to how he couldn't have done it, and then finally gets fed up and admits that he's a time-traveling alien, as if this were some kind of alibi. Everyone believes him, and there is much laughter over the misunderstanding!
Ha. Of course, they don't believe him... until the Doctor gets them to walk into his TARDIS, which proves that he is a time-travelling alien and therefore exonerates him of the murder. (Look, we did say the plot didn't make sense.) Then everything's fine, until someone remembers that the real killer is back at the mansion. Oh no!
Mystery Killer, now dressed in slacks and and a nice sweater, kidnaps Ann, kills a few more people and is then temporarily subdued while everyone tries to politely ignore the fact that a murder interrupted their pleasant summer banquet and dance. Then Mystery Killer escapes, grabs Nyssa and runs off — apparently having set the entire house on fire to break down a simple door. At this point, Lady Cranleigh decides to confess that the murdering psychopath is her other son, who was hideously mutilated and driven insane during the course of his search for the black orchid; and, no longer being one of The Beautiful Elite, was shut away in the disused corridor. But it's all good, as the Doctor and Lord Cranleigh decide to go up and rescue Nyssa — and in doing so, cause our "misunderstood" villain to hurl himself from the roof to his death.
Adric doesn't have any actual speaking lines for most of part 2 — presumably he was still eating. Murders be damned, there's food on that table going to waste.
All the problems solved, the Doctor and companions smile and grin happily as they leave a mourning family behind while taking their costumes with them. And, for his troubles, the Doctor is given a ethnobotanical treatise called Black Orchid, written by our villain back when he wasn't insane. What a charming memento!
---
So, to sum up?
Tegan dances the Charleston! Nyssa and Adric are baffled by this weird Earth game "cricket"! Nyssa wears a beautiful dress! Adric eats food! The Doctor sings in the shower! Adric eats more food! A "good person" kills a lot of people! Most importantly, Peter Davison spends quite a bit of the first episode in a bathrobe! It's like an entire serial of omake (Who-make?).
---
Tropes
---