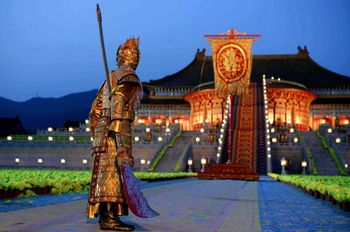 Most European audiences know this Chinese period from Asian pop culture sources such as Wuxia movies, or Japanese works such as the Dynasty Warriors series of games and Yokoyama Mitsuteru Sangokushi, though most of these are based on much older Chinese novels, folk-stories and other source material.
Life in Imperial China, according to this view, apparently involved lots of politics and betrayal around the Emperor's solid gold palace, punctuated by battles featuring big hulky brocade-wearing brutes mowing down peasant soldiers by the thousands with their flashy musou attacks. When you met a fair maiden, either she was skilled enough with martial arts to kick your butt, or she was a supernatural creature in disguise.
See Dynasties from Shang to Qing for a history of this series of ages (it's often forgotten just how long that history is; "Imperial China" lasted for over 2,100 years,note From Qin unifying China in 221 BCE to the fall of the Qing in 1912 while the pre-Imperial era easily lasted more than a millennium), and No More Emperors for what happened when the last of the Chinese kingdoms and empires fell in February 1912.
---
Popular tropes from this time period are:
---
Depictions in media:
open/close all folders
Anime & Manga
Films — Animation
Mulan, though it's based on a traditional Chinese folk-story.
The Tale of the White Serpent (白蛇伝)
Films — Live-Action
55 Days at Peking, set during the Qing Dynasty.
A Battle of Wits based on the Qin Dynasty conquest and unity of China.
The early parts of Bertolucci's The Last Emperor.
Mulan (2020), set in ancient China.
Mulan: Rise of a Warrior, set in ancient China.
Rampant is set during the Qing Dynasty's control of Joseon-era Korea. The Emperor of Qing is frequently mentioned but never seen, and the protagonist has just returned from living in China.
Red Cliff: set in 208 AD in China, during the period of the end of Eastern Han Dynasty.
Shanghai Noon (the early parts).
Warriors of Heaven and Earth
Literature
Live-Action TV
Manhua
Theater
The stage play and later opera, Turandot.
Toys
Funko Pop! has a DC Comics line of figures called "Imperial Palace", which is made of superheroes from The DCU dressed in medieval Chinese armors.
Video Games
Visual Novels
Webcomics
Web Videos
Western Animation
Two episodes of Histeria! are centered around China. Oddly enough, the show's resident Chinese character, Cho-Cho, barely appears in either episode.
Sagwa, the Chinese Siamese Cat, which is set during the Qing Dynasty.
---