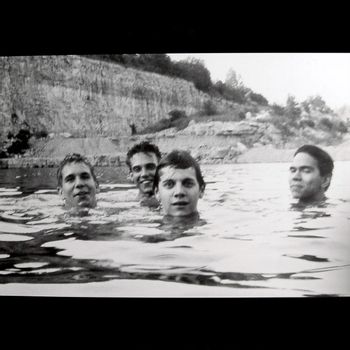 There was a sound at the window then.
The captain started, his breath was still.
Slowly,
He turned.
—"Good Morning, Captain"
In March 1991, a record with a black and white photo of four men — no band name, no album name — floating in an abandoned quarry, staring and smiling right at the camera, began to appear in music stores. Those pulled in by the cover would find themselves enwrapped in a world of mystique — the band had broken up before the album's release, the music on the album was dark and depressing with lyrics emphasising isolation, and one of the members supposedly had to be institutionalised during/after the recording (the rumour varies); it was as if it was cursed. Despite being largely ignored on its release, the few that did hear it bore witness to something different, giving birth to a new genre.
Spiderland is the sophomore and final album by American Post-Hardcore/Math Rock band Slint, released through Touch and Go Records on March 27, 1991. A very marked departure from their first album Tweez, Spiderland set itself apart by removing itself of traditional hardcore structures, instead focusing on usage of long crescendos and sudden diminuendos (today, the term "Slint Dynamics" is used for dynamics similar to the ones featured on this album) and narrative lyrics delivered in spoken word. Fueling the mysteriousness around the album was the Troubled Production: the entire thing was stressfully recorded over four nights, and singer Brian McMahan threw his voice and became physically ill after recording the LP's final track, "Good Morning, Captain".
Notable for, along with Laughing Stock by Talk Talk (also from 1991), pioneering the genre known as Post-Rock, which would in turn bring about artists such as Godspeed You! Black Emperor and inspire other bands, such as Swans in their later years, to help define what post-rock could be. Also brought profound influence on Math Rock and underground music in general. The band has since reunited, are touring and are rumoured to be working on new material. Breadcrumb Trail, a Rockumentary about the album's recording, was released in 2015.
---
Tracklist:
A
"Breadcrumb Trail" (5:56)
"Nosferatu Man" (5:35)
"Don, Aman" (6:28)
B
"Washer" (8:50)
"For Dinner..." (5:06)
"Good Morning, Captain" (7:39)
---
Principal members:
Brian McMahan - Vocals, guitar
David Pajo - Guitar
Todd Brashear - Bass
Britt Walford - Drums, guitar, vocals (spoken word verses in "Nosferatu Man", latter two for "Don, Aman")
---
I shouted and searched the tropes for a friend:
---
The sun was setting by the time we left.
We walked across the deserted lot, alone.
We were tired, but we had managed to smile.
At the gate, I said, "goodnight", to the fortune teller,
the carnival sign threw colored shadows on her face.

But I could tell she was blushing.
---