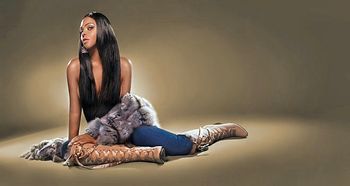 Lil' Kim (real name Kimberly Jones) is an American rapper and singer. She was born on July 11, 1974. Her stage name is derived from the fact that she stands at 4'11" tall.
She spent much of her adolescent life on the streets, until, under the tutelage of fellow rapper The Notorious B.I.G., she began her music career in 1995 with the group Junior M.A.F.I.A., whose debut album Conspiracy generated three hit singles. In late 1996, she began her solo career with the album Hard Core, which was certified double platinum.
In 2005, Lil' Kim served a year long prison sentence for lying to a jury about her friends' involvement in a shooting four years earlier. During her incarceration, her fourth album The Naked Truth was released. She returned to the public spotlight in 2009 with an appearance on Dancing with the Stars, and has a fifth studio album in the works, although it has been stuck in Development Hell for some time due to legal issues
.
In the media, she is well-known for her somewhat skimpy and outrageous outfits (although she has toned this down in recent years) and her sexually explicit lyrics.
Not to be confused with the Korean singer Lim Kim. WWE fans may also know her for singing Trish Stratus's third (and most recognisable) entrance theme "Time to Rock and Roll".
Studio Albums:
Hard Core (1996)
The Notorious K.I.M. (2000)
La Bella Mafia (2003)
The Naked Truth (2005)
Mixtapes:
Ms. G.O.A.T. (2008)
Black Friday (2011)
Hard Core 2k14 (2014)
Remix Albums:
Collaborative Albums:
Conspiracy (with Junior M.A.F.I.A.) (1995)
---
Tropes associated with Lil' Kim:
---