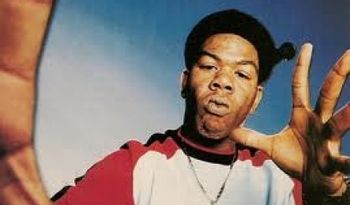 Craig Jamieson Mack (May 10, 1971 — March 12, 2018) was an American rapper and record producer best known for his breakthrough 1994 single "Flava in Ya Ear".
Mack's early life and career, believe it or not, share some similarities with that of Tupac Shakur: both were born in New York, and got their starts as roadies in popular hip hop groups EPMD and Digital Underground, respectively. But unlike Tupac, Mack didn't start releasing material until after his group disbanded.
After an unsuccessful first attempt at a rap career under the name "MC EZ" in 1988, Mack signed to Sean "Puffy" Combs' Bad Boy Records in 1993 using his real name. A year later, in the lead-up to his debut album Project: Funk Da World, Mack released the album's lead single "Flava in Ya Ear" — although he almost didn't record it
due to disagreements over the song's Easy Mo Bee-produced instrumental.
Despite his own reservations, "Flava in Ya Ear" went on to become the most critically and commercially successful single Mack ever released, going Platinum, earning a Grammy nomination, and cracking the Billboard Pop Top Ten. A remix with an all-star lineup of rappers (including The Notorious B.I.G., LL Cool J, and Busta Rhymes in one of his first solo appearances) was quickly made to capitalize on the song's success.
It also spelled the beginning of the end for Craig Mack.
The very first artist featured on the "Flava" remix was not Mack himself, but the Notorious B.I.G., who was no stranger to appearing on remixes at this point. Biggie and Mack did not like each other at all (Biggie himself even said he only appeared on the remix to appease Puffy), and used their verses to throw subliminal shots at each other. Furthermore, Biggie's appearance on the remix has been said to have overshadowed not just Mack, but every other rapper included. In the years since the remix's release, many have criticized the choice to let Biggie go first, stating that his verse was so good, no one could've realistically followed it.
The rest of 1994 continued to slide downhill for Mack. A large part of that was due to him being overshadowed once again by the Notorious One; Project: Funk Da World, despite receiving a Gold certification and getting good reviews, was released a week after Biggie's debut album Ready to Die, which was a smash success and went on to be certified quadruple Platinum. Compounding this was the relative failure of Mack's second single "Get Down", which stalled at No. 38 on the pop charts, although it was certified Gold.
The nail in the Bad Boy coffin would come the same year, just a few months after Mack's Grammy nod. He appeared
on Yo! MTV Raps! with Biggie and Puffy, where the latter announced that a new album from Mack would be released in January 1995, much to Mack's visible confusion. Not only did that album never materialize, but Mack was booted from Bad Boy for low album sales. Mack would attempt a comeback with his second album Operation: Get Down in 1997, but the album failed to match his Bad Boy success.
From there, Mack largely remained off the hip-hop map until the early 2010s, where he was discovered to have joined a Christian ministry
that has been likened to a cult, and released a mixtape titled Operation Why2K?. He later released The Mack World Sessions, a collection of unreleased tracks, in 2017. The following year, an EP by British DJ Tape Deck King compiled from singles and raps intended for an ultimately unreleased album from Mack titled That's My Word was released.
Craig Mack passed away from heart failure on March 12, 2018 at the age of 47.
---
Discography:
Project: Funk Da World (1994)
Operation: Get Down (1997)
Operation: Why2K (2012; mixtape)
The Mack World Sessions (2017)
---
Contains examples of:
---