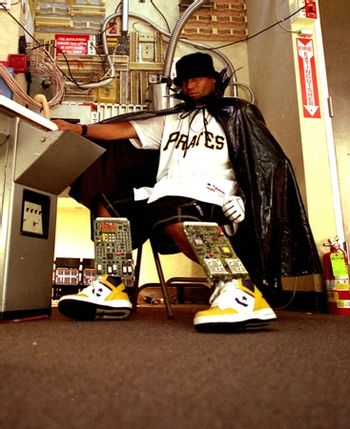 Kool Keith, real name Keith Matthew Thornton (born October 7, 1963), is known for a number of things, including his skills as a lyricist and rapper, the fact that he has more aliases than any other rapper in the industry, and, finally, that a lot of his songs are fucking weird.
Keith first gained notice as a member of the Hip-Hop group Ultramagnetic MCs, which formed in 1984. Although praised for his lyrics, his contributions to the group's songs were not particularly weird, especially compared to Keith's solo albums. Keith has also been a member of the Analog Brothers (with Ice-T), Masters of Illusion, Thee Undatakerz (a Horrorcore group) and The Clayborne Family.
However, Keith's best known album is Dr. Octagonecologyst, a weird, Genre-Busting cult hit Concept Album about a time-traveling gynecologyst and surgeon who has sex with his female patients and nurses, and frequently manages to accidentally kill his surgery patients. The album's success resulted in Creator Backlash with First Come, First Served, in which Keith adopted the role of Dr. Dooom to kill off his most famous creation.
Keith is the creator of a style he refers to as "Pornocore", and also claims to be the creator of Horrorcore. The Prodigy's "Smack My Bitch Up" is built around an altered sample of Keith's voice from the Ultramagnetic MCs song "Give the Drummer Some" (The original lyrics were: "Switch up change my pitch up / Smack my bitch up like a pimp"), and he returned the favour by guesting on the track "Diesel Power". Keith also appeared in a few Sprite commercials. However, despite all of this, he is still largely underground, because most of his music is too strange for mainstream audiences.
---
Notable albums
Dr. Octagonecologyst (as Dr. Octagon)
Sex Style
First Come, First Served (as Dr. Dooom)
Black Elvis/Lost in Space
Matthew
Spankmaster
Nogatco Rd. (as Mr. Nogatco)
The Return of Dr. Octagon (as Dr. Octagon)
Dr. Dooom 2 (as Dr. Dooom)
Moosebumps: An Exploration Into Modern Day Horripilation (as Dr. Octagon)
---
Tropes employed by Kool Keith
---