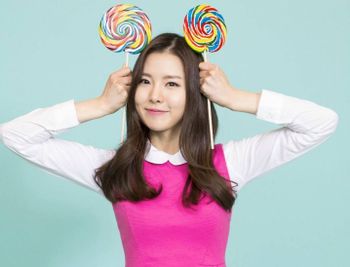 Kim Yerim (born January 21, 1994), aka Lim Kim is a Korean Pop Music soloist. She initially came onto the Korean Music scene as a member of a duo called Togeworl, and competed in the show Superstar K3 as such. However, after her companion Do Dae-Yoon had to return to school, Lim Kim made her solo debut in 2013 under Mystic 89. She is known for her distinctive airy voice and for a song style more reminiscent of worldwide Indie songs than traditional K-Pop. She left Mystic 89 on May 30, 2016, and has not yet signed with a new label.
She made a comeback on May 24, 2019 as a rapper with "Sal-Ki".
Lim Kim's Discography
Singles
Soundtrack Songs

"Love U Like U (with L of Infinite)"
"I'm Asking You"
"Happy Me"
"Roomate (with Eddy Kim)"

EPs

A Voice
Her Voice
Simple Mind

Albums
Not to be confused with the American rapper Lil' Kim.
---
Tropes related to Lim Kim and her music: