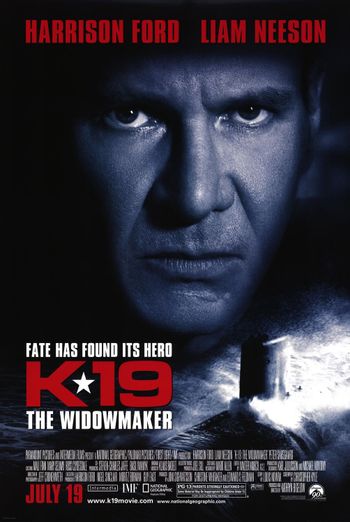 "It's my favorite movie about Russian patriotism. In fact, it's the only one!"
— Caleb West
K-19: The Widowmaker is a fact-based fictional movie released on July 19, 2002, about the first of many disasters that befell the Soviet submarine of the same name. It was directed by Kathryn Bigelow, of Point Break (1991) and The Hurt Locker fame.
In 1959, the Soviet Union launches its first nuclear powered ballistic missile submarine, the K-19 – nicknamed "The Widowmaker" due to many deaths that occurred during manufacturing. The ship is led by Captain Alexei Vostrikov (Harrison Ford), aided by executive officer Mikhail Polenin (Liam Neeson). One day, the ship's reactor cooling system starts to fail, leading the sailors to work together in order to both save the crew's lives as well as prevent a nuclear accident that could trigger World War III.
Submarine K-77, a diesel-powered missile submarine that somehow got bought by a Finnish entrepreneur, was used as the main set for this movie and later served as a museum in Providence, RI until it sank in a storm in 2007. It was scrapped in 2009.
The K-19 itself served in the Soviet and then Russian Navy until 2002. In 2003, the boat was scrapped with the exception of the sail to be used as a memorial for the fallen sailors.
---
K-19: The Widowmaker provides examples of:
The So-Called Coward: Lt. Radtchenko, who suffered a total nervous breakdown and did not assist in the first effort to repair the cooling system for the reactor, does the reparations all by himself when the first efforts failed later in the voyage, spending more time inside the reactor than any other men.
Superweapon Suspense Subversion: The film opens with the crew of the titular submarine preparing to launch a nuclear missile while simultaneously under attack from an enemy sub. However, a short circuit in a control panel prompts the captain to snap, "The drill is over!" and it is revealed that the K-19 is still at dockside, running a training exercise in front of high ranking officers.
---