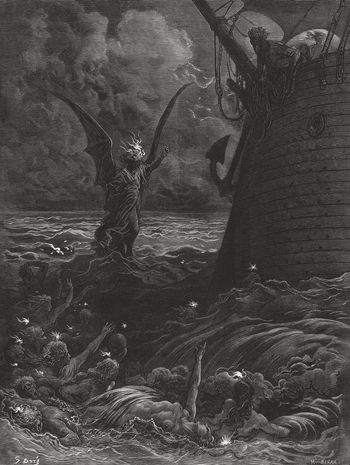 Strange truths are told of the waves and what lies beneath. The lies are even stranger.
Sailors from time immemorial have had their own brand of folklore. Much of it is borrowed from that of landlubbers, Norse Mythology and Greek Mythology, for instance, but sailors have had their own unique twists. These types of tales are what they sang to each other during long, boring voyages. They included tales of great deeds, quirky superstitions, fantastic creatures and day-to-day life on the sea. Sailor lore also has such things as haunted islands and accursed ships. Sometimes sailor tales were sung rather than told, especially as sea chanties provided rhythm to help with their work.
There are a few fairly good compendiums of nautical folklore. One of the older ones is Weird Tales from Northern Seas by Jonas Lauritz Idemil Lie. Two more modern ones include Folklore and the Sea
by Horace Beck and Seafaring Lore and Legend
by Peter Jeans. By fortunate coincidence, the photo of Horace Beck looks exactly like the sort of Father Neptune that would be telling these stories.
See also Tropes at Sea.
---
Works based on (or including elements of) Nautical Folklore:
Nautical Folklore provides examples of:
---