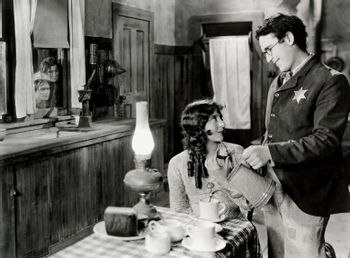 The Kid Brother is a 1927 silent comedy film directed by Ted Wilde and starring Harold Lloyd.
Lloyd plays Harold Hickory, the youngest son of the Hickory family of Hickoryville. His big, tough father Jim is the sheriff, and his big, tough brothers are following in his father's footsteps. Skinny, nervous, meek Harold is not. When a medicine show arrives in town Harold falls for pretty Mary, who dances in the show. But Mary's partners in the medicine show—silver-tongued pitchman Flash Farrell and Sandoni, the strongman—are up to no good. Can Harold win Mary's love, defeat Farrell and Sandoni, and win his father's respect?
Considered by many to be Lloyd's best and most fully realized feature, The Kid Brother is also notable as the sixth and last film in which Jobyna Ralston appeared as his Love Interest.
---
This film provides examples of the following tropes: