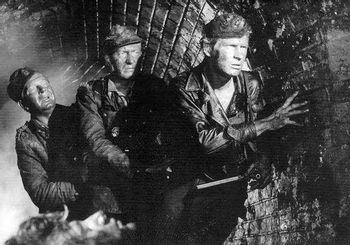 Kanał (Sewer) is a 1957 film from Poland, directed by Andrzej Wajda. It is set during the harrowing last days of the 1944 Warsaw Uprising, as the Polish Home Army, which had risen up against the Germans in August, was destroyed.
The film follows a single squad of Polish Home Army soldiers in the last days of the battle. Lieutenant Zadra is leading a group of 43 soldiers and civilians. Lieutenant Mądry, his second-in-command, hasn't let the horrors of war stop him from having an affair with Halinka, a pretty messenger girl. Officer Jacek Korab is a conscientious young soldier who is wounded while beating off a German tank attack. Michal is a pianist and composer, a civilian who only joined the unit the day before. Eventually, with their position collapsing around them, the squad is forced to go underground, taking to the sewers in order to reach other Home Army units still fighting downtown. A woman named Daisy is designated to be their guide through the sewers.
Part of a loose "war trilogy" by Wajda that includes A Generation and Ashes and Diamonds. See also The Pianist, which focused on one Jewish man's experience in the Warsaw Ghetto but also dramatized the 1944 Uprising.
---
Tropes: