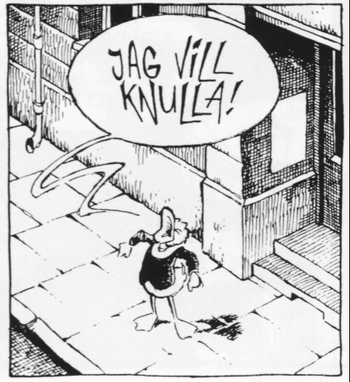 Arne Anka (Arne Duck) is a Swedish comic series by Charlie Christensen, who started drawing and writing the series under the pseudonym Alexander Barks in 1983.
The series follows the titular character, a bitter and cynical anthropomorphic duck and unsuccessful poet and writer, with an alcohol problemnote "I'm not having problems with the alcohol, I'm having problems with the reality!", who spends most of his time hanging out in Zeke's, the local bar, where he discusses politics, the state of both the Swedish and the international society, sex, and high, as well as very low, philosophy with his friend Krille Krokodil (Krille Crocodile), a script writer.
One of the first thing the reader will notice is probably Arne's close resemblance to a certain other anthropomorphic duck.note And no, we aren't talking about Howard the Duck, although that would probably be a more justified comparison. Well, so did Disney and they threatened Christensen with a lawsuit. After first fruitlessly trying to reason with Disney, Christensen drew a strip wherein Arne faked his own death in order to get a plastic operation which radically changed the shape of his beak, and took a name charge to Arne X, which also became a temporary name for the series.
After getting complaints from his readers about the changes, Christensen decided to spite Disney by having Arne buy a fake beak in the shape of his old one, which was held up by a rubber band, and simultaneously changing the comic's name back to its original title. Christensen then kept drawing the rubber band around Arne's head until Disney finally withdrew the lawsuit threat, as the whole event attracted quite a bit of public attention in Sweden, and increased the comic's popularity tenfold.
Christensen then kept the comic going until 1995, where he felt he had said all he had to say and ended the comic on a high note with Arne finally finding success and getting married. But the story doesn't quite end there.
In 2004, Christensen started out a new series, by the name of Konrad K., in which Arne at first appeared in small cameos. Eventually a full-on Hostile Show Takeover took place, and Konrad K. was written completely out of the series, while Arne became the main character again, now armed with even more bile against the world, as he in the time between the series had been going through a rough divorce and now had two sons to take care of.
Albums in the series so far
Arne Anka (1989)
Arne Anka, Part II (1991)
Arne Anka, Part III (1993)
Arne Anka, Part IV (1995)
Arne Anka, Part V: Återuppuppståndelsen (The Resurrection) (2006)
Arne Anka, Part VI: Manöver i mörkret (Manoeuvres in the dark) (2007)
Arne Anka, Part VII: Ner med monarkin (Down with the monarchy) (2008)
Arne Anka: Rapport från kriget (News from the war) (2010)
Arne Anka: Voodoo vid vatten (Voodoo by the water) (2011)
Arne Anka: Utsikt från en svamp (The view from a mushroom) (2013)
Arne Anka: Dagbok från Svitjod (Dairy from Svitjod) (2014)
Arne Anka: Mentala selfies (Mental selfies) (2016)
---
This comic provides examples of:
---