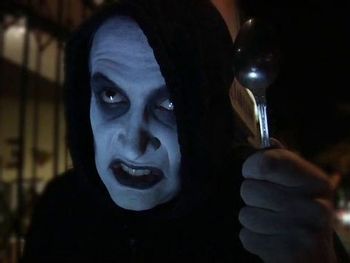 The Horribly Slow Murderer With the Extremely Inefficient Weapon
started as a parody trailer that pokes fun at the horror genre, particularly the "
Torture Porn
" movies like
Saw
and
Hostel
, which focused on,
well, see the title
. It stars Paul Clemens as a man who is suddenly attacked by a supernatural being (Brian Rohan) for a (possibly imagined) slight against the Powers That Be. This attack is made with a normal spoon, the bowl struck sharply against the target's body, and is seldom ceased. The victim is sent spiraling past the brink of insanity from the constant flogging, and resorts to continually, and comedically, extreme lengths to get rid of his tormentor, all ending in failure, and in some cases even
backfiring immensely
.
After the immense success of the original parody trailer
in October 2009, The Horribly Slow Murderer With the Extremely Inefficient Weapon (abbreviated HSMWEIW) has become a YouTube series, including an "Ask Jack" featuring an interview with the victim, an interactive adventure which cannot be won, and a new mini-series called "Ginosaji Vs. Ginosaji".
A real movie version, titled Ginosaji, is currently in pre-production. Here is the Kickstarter page for it.
The campaign ended with 155.71% fundingnote That's $77,855 pledged of its $50,000 goal, but additional funding for the movie can still be made through the Backerkit shop
, which has currently made more than $7,000 as of March 2017. In February 2020, Gale announced that the film is currently on hold due to a myriad of family emergencies, but has reassured people that it will still happen.
---
This work provides examples of:
---