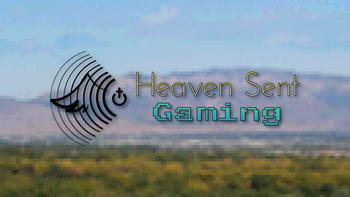 "together we formed this thing, it's sort of like an entertainment team. We stated it basically, because I wanted to — I wanted to work with Isabel on a lot of projects that we had going on together."
Mario — via
Mario and Isabel's interview with Wikinews
Heaven Sent Gaming
is a media and arts team from Albuquerque, New Mexico. Founded in 2006 by High-School Sweethearts Mario Lucero and Isabel Lucero, the two are now married. The team first started by making video game related productions, then moved on to music, comics, web-serial novels, and eventually everything else.
They were a part of a larger game design team in Pheonix, Arizona, college, called Our Own Little Coup, but after a year they returned to New Mexico to run the company themselves. They eventually began to work with local music artists, like Life Never Lost to help them produce music. Soon after the Reverie comics, and over time everything else followed.
Unlike most of their Christianity-centric media compatriots, Heaven Sent Gaming has worked with several people that could be seen as "controversial." Including transgender activist DH Torkavian, fanservice artist Ehryel (X-Arielle), and atheist Jason Waggoner. Regardless of who they're working with, HSG has never shied away from the topic of Christianity (or fallen into the Jesus Taboo), and is always Proud to Be a Geek especially about Jesus.
---
Works include:
open/close all folders
Webcomic works
Game works
Balance, released in 2007, their first project as a college video game design team.
Thirst, announced in 2014, a Fantasy Tabletop RPG.
Literature works
Web video works
Website works
---
Heaven Sent Gaming:
As the Good Book Says...: Their slogan is a Bible text, 1 Corinthians 9:25, which says "Everyone who competes in the games goes into strict training. They do it to get a crown that will not last, but we do it to get a crown that will last forever."
Schedule Slip: Extremely guilty of this, their fan-base has been referred to as Heaven Sent "saints", as it takes the patience of a saint to await new content from them.
---