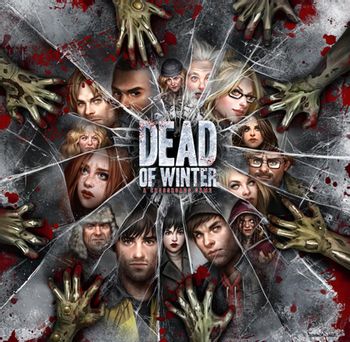 "All of our hard work has rewarded us more than I could have hoped. Yesterday this was a refugee camp, and today it's an honest-to-God town. When people call it the Colony, there's no bitter irony in their voices, and that speaks volumes. Only problem is, all of our hard work has brought down a swarm of the dead upon us. Each day brings new invaders to our walls, and they wander the streets in town waiting for a living morsel to present itself. If we can just figure out a way to kill this swarm, build up our defenses and hopefully stop attracting more of them. Sure, we'll probably be dealing with stragglers for the rest of our days, but anything would be better than the horde we're dealing with now."
— 'Home Sweet Home' Main Objective Storyline, Dead of Winter
A survival/horror cooperative Adventure Board Game set in the dead of winter during a Zombie Apocalypse, where players must achieve personal goals and keep the community of survivors alive until spring. Designed by Isaac Vega and Jon Gilmour in 2014 for Plaid Hat Games
, it is the first of a planned series of games that uses the Crossroads system.
Can be ordered via the official website
or found in your local gaming store. Plaid Hat Games has also put a PDF of the rules
on their website.
2-5 players select a Main Objective the group must achieve before the game is over, as well as Once Per Round Crisis Card to resolve before the round is finished. Players select 2 or more Survivors to control on the board, moving them from the relative safety of the Colony and venturing out to forage and fight in the dangerous locations of the town. However, players also have a Secret Objective for themselves to achieve by the end of the game, which could be as harmless as collecting lots of tools, or as malicious as seeking to destroy the colony from within, and which the player must also achieve if they are to win. Food is running short, trash is piling up at the Colony, characters are getting frostbite, and worse, the zombies are massing at the doors and smashing through your barricades.
The goal is survival, but not everyone can make it until spring.
An expansion was teased
by founder Colby Dauch. This expansion, "The Long Night" was released in 2016. A second expansion, "Warring Colonies" was announced in May 2017 and was released on October 12, 2017.
In 2017, Oni Press started publishing a comic book series based on the game called Dead of Winter.
Not to be confused with the chilling 1987 Gothic Horror film
. Also not to be confused with the Dead Winter webcomic, which hilariously enough is also set in a Zombie Apocalypse.
---
Dead of Winter has examples of:
---