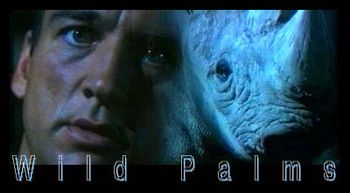 What is that climbing up the stair?
It's not a boar, it's not a bear
And on its head it has a horn
As odd as any unicorn....
Wild Palms is a six hour science fiction TV mini-series from 1993, produced by Oliver Stone and written by Bruce Wagner (who also wrote the comic book the series was based on). It starred James Belushi, Dana Delany, Bebe Neuwirth, Angie Dickinson, Kim Cattrall, Ernie Hudson, Ben Savage and Robert Loggia.
Set in 2007, Harry Wyckoff (Belushi) has got it all: A successful career as a patent attorney, a beautiful wife, a teenage son starting a TV career, and a little daughter who is still too shy to speak. But at night, he is haunted by nightmares of palm trees and rhinoceroses. Accepting a call for help from his former girlfriend to find her kidnapped son, Harry is pulled into a web of intrigue surrounding the charismatic Senator Kreutzer, TV Channel 3, a strange religion called Synthiotics and old rival secret societies called The Friends and The Fathers.
Wild Palms demonstrated an astoundingly sensible projection of future trends, including the rise of retro music as well as believable fashion. Notably, one episode was directed by Kathryn Bigelow.
---
Provides Examples Of:
All Psychology Is Freudian: Harry's therapy sessions.

Notably, the therapist is a Father, so it's doubtful that he had any interest in Harry's mental health.
Driven to Suicide:

Grace Wyckoff, though she survives the attempt... only to be killed off by her mother. Tully also kills himself after killing Josie.

Eye Scream: When Josie

gouges out Tully's eyes with her thumbs.
Fan Disservice: During a nightmare, Harry reaches over to touch his wife in bed — and she turns into Robert Loggia, snorting like a warthog. May well be the most unsettling moment in the entire series.
---