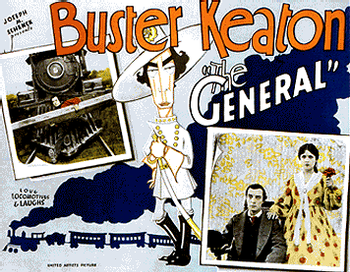 There were two loves in his life. His engine, and - (Annabelle Lee)
— A text card explaining Johnnie's main loves.
The General is a 1926 silent film starring Buster Keaton and co-directed by Keaton and Clyde Bruckman. Commonly considered to be one of Keaton's masterpieces.
Johnnie Gray, a train engineer, has two loves in his life: his sweetheart, Annabelle Lee, and his locomotive, the General. When the Civil War breaks out, Johnnie attempts to enlist into the Confederate Army, but is refused because he is more valuable as an engineer. Johnnie isn't told this, so Annabelle and her family believe him to be a coward. Annabelle refuses to talk to Johnnie again until he is in uniform. When Johnnie's train is stolen by Union soldiers whilst the passengers are having dinner (except for Annabelle, who had reboarded on the train), Johnnie jumps into another engine and chases the enemy. His goal is to get both his girl and his train back. Hilarity Ensues.
This film is less of an outright comedy than many of Keaton's other works and has several dramatic elements. At the time it was considered a flop, but ended up being Vindicated by History and is now considered one of the best silent films ever made.
Loosely based off an actual historical event
, which also inspired the 1956 Disney film The Great Locomotive Chase, which is the story told from the point of view of the Union saboteurs.
---
This film provides examples of:
---