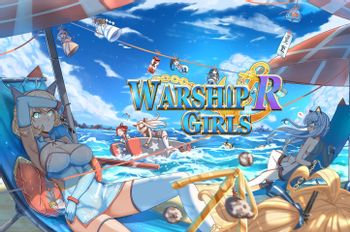 Once upon a time, Kadokawa Games released on DMM.com a free-to-play browser
Collectible Card Game
featuring
moe anthropomorphisms of World War II naval warships from the Axis powers.
Due to the complete lack of playable Allied ship girls in that game, and its developers having no plans to add such ship girls until the debut of Iowa in
Kancolle Kai
, Chinese developer Huanmeng (currently rebranded to moeFantasy)
took it upon themselves and released what could ''initially'' be seen as a clone.
The result?
Warship Girls
(战舰少女; Zhàn Jiàn Shào Nǚ).
Unlike Kantai Collection, this game is on the iOS and Android platforms, and features ship girls from both the Allied and Axis powers.
Have you ever dreamt of teaming Lady Lex
up with the Crane
sisters
? Now you can.
How about having HMS ''Hood''
and DKM ''Bismarck''
fight side-by-side against the Abyssals? No problem.
What about a big-gun battleship meetup with participants from both Allied and Axis powers? Now we're talking.
There used to be two versions of the game, developed by different companies due to legal problems between them. The official one developed by moeFantasy and another one developed by Patch Games (the former game's distributor). The Patch version has since been shut down.
The Japanese version was released October 24th, 2017. The English global version came out on December 18th 2018, but ended service on August 31st, 2021. Similarly, a Thai version was released in 2015, but shut down in 2016 after serious mismanagement.
For specific character-related tropes, please refer to the Character Sheet.
---
Warship Girls features the following tropes: