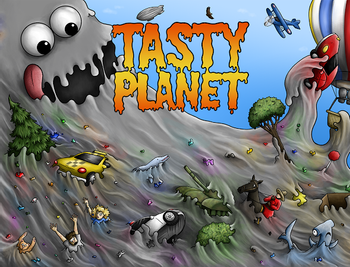 Tasty Planet
is a 2006 video game developed by Canadian indie game developer Dingo Games, which is similar to the
Katamari Damacy
line, but with
Grey Goo
instead of the Katamari ball. You begin as a micrometer-sized bit of experimental gooey grey bathroom cleaner created by a pair of scientists, eating tiny dust particles, but get free, and continue consuming, growing to eat mice, people, buildings, asteroids,
the Earth
,
stars
, a
black hole, the entire universe, and finally SPACE AND TIME ITSELF
.
The game spawned a series of sequels and Spin Offs:
Tasty Planet: Back for Seconds: Released in 2010, it can be described as a version of the first game changed to involve time travel, in contrast to the first game's mundane present-time setting. It introduced multi-part levels, wherein once you reach a certain size, the game zooms out to reveal a bigger scene, and you find yourself small again with new things to eat.
Tasty Blue: A spin-off released in 2014 that features a layout similar to that of a Platform Game, where you play as a goldfish, a dolphin, and an experimental shark entity known as the "Nano-Shark", which was created by the same scientists as the Grey Goo. The overall gameplay and features are still similar to that of Back for Seconds.
Tasty Planet Forever: Released in 2018, this game consists of multiple "worlds", each with its own protagonist (including the Grey Goo) and gameplay style. The worlds have about ten normal levels each, plus a similar amount of bonus levels.
All games are available on PC through Steam, as well as on iOS and Android (with the first game being remastered for the latter two ports).
A condensed flash version of the first game can be found here
. A flash version of Back for Seconds, titled Tasty Planet: Dinotime, can be found here
.
---
The Tasty Planet series provides examples of:
---