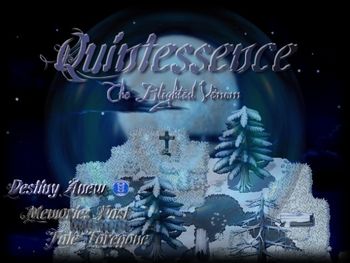 Quintessence - The Blighted Venom
is a freeware
RPG Maker
game with a very high
Story to Gameplay Ratio
. After a very cryptic
Distant Finale
introduction the story joins Reivier Wirt, an ordinary resident of Korbin Village, as he begins what seems like a normal day. By the end of the day, however, circumstances have led him to discover that his wife, Serai Wirt, has been supplanted by a shape-shifting doppelganger named Lunair Naeryns, who tries to kill him. He is saved by one of the others in the village, who knows Lunair from her childhood, and the information he reveals incites her to strike a deal: in exchange for him and several others undertaking an adventure on her behalf, she will return home and secure the freedom and return of Serai. Distrusting, Reivier follows her, and the story follows the two from there.
The magic in this story consists almost entirely of voluntary shapeshifters, of which there are many (whether they can shift into other people, animals or powerful elemental forms). All also have Super Senses. Much if not most of the focus is on the characters themselves rather than the events, including (or possibly especially) those who would barely qualify as bit characters in an ordinary RPG. Combat (which is not turn-based, but rather a top-down action system) and puzzles are sparse and dictated more by what the story calls for (or allows for) than a desire to keep the player active; there are no statistics to manage and you may not even notice the effect of your character level (largely because there are barely any battles at all).
The ongoing game currently has eleven out of a planned fourteen chapters released, and can be found at the author's website, Freebird Games
.
---
This game provides examples of:
Abusive Parents: Duke Rayne considers Lunair nothing but a means to an end, and neither that end or the other means to get there are in anything resembling her best interests.
---