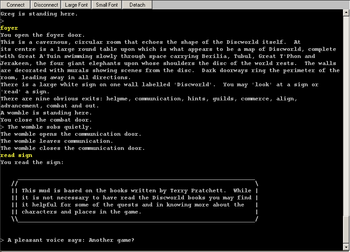 Discworld MUD
is a free-to-play
Multi-User Dungeon
launched in the early 1990's, based on Terry Pratchett's
Discworld
series. It's possible to meet many characters and travel to the areas seen in the books. So far, the MUD seems to take place during the events of
Night Watch
or
The Truth
, but it's hard to tell. New features are constantly added to the game.
The player starts as an Adventurer and can choose to join one of six player-runnote except for warriors guilds: Assassins, Priests, Thieves, Warriors, Witches, and Wizards. Each guild has a number of specialisations and different primaries. Or the player can stay an adventurer. And there's much more to that.
---
This game provides examples of:
Pun: NPC Sokkard tells a story about a corn flake:

Sokkard wisps: But once again, Barry the incredibly clever little cornflake works his way all the way to the top of the spoon without anyone noticing!

Sokkard wisps: The student opens wide...

Sokkard wisps: He lifts the spoon, and puts it in his mouth...

Sokkard wisps: He closes his mouth around the spoon...

Sokkard wisps: Barry is in the mouth...

(Two) Sokkard wisps: And I'll tell you the rest next time BECAUSE IT'S a CEREAL.

Punny Name: Several NPCs (and players, too). There's a category in the Osrics for best name, where the top names are mostly puns.
Purely Aesthetic Gender: The only major thing affected by gender is whether a player can join the witches' guild (can't be male).
Rage Quit: Probably the reason why corpses of newbies with their stuff are found, but the player isn't online.
Regenerating Health: Usually 3-4 HP per "heartbeat". Bandages, healing roses, and healing tea speed it up.
Schmuck Bait:

There are signs that warn players not to do certain things, and the game teaches you early on that it's a good idea to heed them. Some players don't.
There are also some tough NPCs that have short descriptions that resemble weaker NPCs. "Look"ing at them or "consider"ing them usually gives the player clues that they shouldn't be trifled with.

Scratch Damage: Averted. Once the player is a high enough level (something like that), weaker opponents have a hard time landing a hit. If they manage to, the player's "skin absorbs all of the blow".
Shiny Sense: Lights, like yellow stone rings.
Shoplift and Die: There are certain areas where it's a very bad idea to shoplift. For non-thieves or thieves without a license, shoplifting in Ankh-Morpork gets you heavied (money and items confiscated) and left hanging on Brass Bridge with one hit point.
Shout-Out: Many, most noticeably in the achievements and jukebox and pre-reboot songs.
Stance System: You can choose (in combat options) whether to fight offensively or remain on the defensive.
Status Buff: Berserking gives the warrior an attack and defense buff at the cost of a cooldown period after it wears off.
Status Effects: Fear, poison, paralysis, blindness, and rarely, turned into a frog.
Status Line: Can by seen by typing "score brief", or with a client that has that option.
The Trope Formerly Known as X: A quest in Genua involves a parody of this, where the player sleeps and dreams of a prince that turns into a frog after he's kissed.
Video Game Stealing: The command "filch" allows thieves to steal clothing off another character, even hidden/unseen objects like underwear.
Wallet of Holding: Dangerous to have, though; there are a few ways to lose your money, and having a lot of coins weigh you down.
Warp Whistle: Twisting a blue crystal ring teleports the player to a random area.
Welcome to Corneria: Although NPCs can react differently to certain sayings, most likely "help", to start a quest.
Wizard Needs Food Badly: Averted. Your character never gets hungry or thirsty, unlike other MUDs.
You Can't Get Ye Flask

put coin in machine

Cannot find "coin", no match.

put coin into machine

Cannot find "coin", no match.

place coin in machine

Try something else.

leave coin in machine

What?

stick a goddamn coin into the slot of the machine

Try something else.

The 'syntax' command is very helpful in figuring out how to get the flask.

You Get Knocked Down, You Get Back Up Again: Averted. There's a "trip" and "shove" command that, if successful, forces the enemy to crash onto the ground, where they can't attack until they get up, while the one standing can.
---