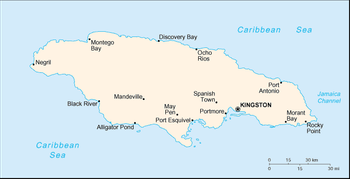 Jamaica?
No, it was her own decision...
Now that the Obligatory Joke is out of the way, let's discuss the country. It was discovered (or re-discovered) by Christopher Columbus on his second trip to the West Indies in 1493. It was wrested from the Spaniards by the British in 1655 during Oliver Cromwell's administration, and was a British colony until its independence in 1962.
It was one of the world's leading producers of sugar during the days of slavery, in its first 200 years of British rule; between 1820 and 1824, it produced up to 77,000 tons of sugar annually for export.
Gave the world Reggae, Ska, mento, Harry Belafonte, Bob Marley, Grace Jones, Sheryl Lee Ralph, Anthony Winkler, Oliver Samuels, Usain Bolt, the Twin Of Twins, Courtney Walsh, Keith Arthurton (these two being members or past members of the West Indies cricket team), the Reggae Boyz football/soccer team, Rastafari, the "jerk" cooking style, Blue Mountain Coffee, its trademark beef patties, Red Stripe beer, bulla cakes, bammies, and its immediately recognizable patois dialect. Its age-old sugar industry also gives the world a major and distinctive style of rum, prized by connoisseurs and barkeeps the world over for its "rum funk"note The standard descriptor for the strong-but-not-unpleasant overripe-banana note certain rums from the English Caribbean develop and burnt-sugar notes that work well both on their own and in cocktails, especially classic tiki cocktails.
Famous for its national fruit, ackee (although the fruit is actually originally native to West Africa), and for the national dish of ackee and saltfish, the latter item being salted codfish. (Recipes for the dish can be found here
.)
Its national tree is the Blue Mahoe (used widely in cabinet-making, furniture-building and wood carvings); its national flower is the Lignum Vitae (used to treat coughs and arthritis, and also brewed into a kind of tea, and its incredibly hard and rot-resistant wood is used to make a variety of items); and its national bird is Red-Billed Streamertail hummingbird (nicknamed the "Doctor Bird" and featured in Ian Fleming's James Bond short story "For Your Eyes Only").
Also famous (or infamous) for being the site of the piracy capital of the 17th century, Port Royal, which was then governed by former privateer Henry Morgan, before being ripped apart by two earthquakes, fires, hurricanes, floods, and epidemics. The city got rebuilt, though.
Unfortunately, Jamaica also has a reputation for having a violently homophobic culture and society, to the point that descriptions of the level of homophobic violence and discrimination within the country make it sound like it would be approved by Fred Phelps. (Terry McMillan's husband fled the country for this reason.) However, the former Prime Minister, Portia Simpson-Miller, declared that she is in favour of civil rights for LGBT citizens, while the current Prime Minister, Andrew Holness, stated that he would have no problem employing LGBT citizens to serve in his parliamentary cabinet.
Jamaica is divided into fourteen parishes, which are in turn separated into three main counties:
Cornwall

Hanover (capital: Lucea)

Westmoreland (capital: Savanna-la-mar)

St. James (capital: Montego Bay)

Trelawny (capital: Falmouth)

St. Elizabeth (capital: Black River)

Middlesex

St. Ann (capital: St. Ann's Bay)

Manchester (capital: Mandeville)

Clarendon (capital: May Pen)

St. Mary (capital: Port Maria)

St. Catherine (capital: Spanish Town, the original nation capital)

Surrey

The parish of Kingston (capital: the city of Kingston, the current nation capital)
St. Andrew (capital: Half Way Tree)
Portland (capital: Port Antonio)
St. Thomas (capital: Morant Bay)
Has seven National Heroes, listed below:
Marcus Mosiah Garvey, who was influential in the Back To Africa movement; Marcus Garvey Drive in Kingston is named after him, he has several statues of his likeness throughout Jamaica, and his likeness is on the Jamaican $20 and 25 cent coins.
Samuel Sharpe, a Baptist deacon who led the 1831 Christmas Rebellion; Sam Sharpe Square and Sam Sharpe Teacher's College in Montego Bay, St. James are named after him, and his face is on the Jamaican $50 bill.
Paul Bogle, a Baptist deacon who led Jamaica's 1865 Morant Bay rebellion; the Paul Bogle High School in St. Thomas is named after him, and he is featured on the Jamaican 10 cent coin and the (now defunct) Jamaican $2 bill.
George William Gordon, a businessman, government critic, and head of the Baptist church of which Paul Bogle was a deacon; Jamaica's house of legislature, George William Gordon House, is named after him, and his face was featured on the (now-defunct) Jamaican $10 bill and is currently on the Jamaican $10 coin.
Nanny of the Maroons, a leader of the Jamaican Maroons who fought against the British; the local community Nanny Town in Portland is named after her, and her face is featured on the Jamaican $500 bill.
Sir Alexander Bustamante, Jamaica's first Prime Minister and founder of the Jamaica Labour Party; the Bustamante backbone (a local sweet treat) is named after him, as is the local pediatric hospital (the only one of its kind in the Caribbean), and he is featured on the (now-defunct) Jamaican $1 bill and the (current) Jamaican $1 coin.
Norman Washington Manley, cousin of Bustamante and founder of the People's National Party; the Norman Manley International Airport in Kingston is named after him, and his face was on the (now-defunct) Jamaican $5 bill and is currently on the Jamaican $5 coin.
Current major industries are tourism, vegetable and fruit export, sugar, and bauxite (i.e. aluminium ore).
Montego Bay, the capitol of St. James and the "Second City" of Jamaica, is touted as the island's "Tourism Mecca." As of the end of 2010, Jamaica copped numerous honours at the World Travel Awards in October, was named Best Honeymoon Destination and Best Tourist Board by the Canadian travel industry in November, and got the Best Caribbean Destination Award at the annual Travel Weekly Readers' Choice Awards in Manhattan (for the second year in a row) in December.
Jamaica has a lot of Urban Legends revolving around ghosts, locally known as "duppies." The most well-known one is the claim that the Rose Hall Great House, located on the north coast outside of Montego Bay, is haunted by the ghost of former owner Annie Palmer, a slave-owner who is claimed to have murdered three husbands and a LOT of lovers, is said to have been a practitioner of black magic, and was basically a monster, Rich Bitch and Bitch in Sheep's Clothing. Just go ahead and try to sleep on the grounds of the Great House, much less in the mansion, for just one night. Go ahead. (Heads up: the security guards won't allow you to.) Other local legends involve the Golden Table (a table covered in gold coins that is said to be in a local river and results in the drowning of anyone who tries to pull it out), the Rolling Calf (a ghostly cow that shows up late at night to roadside travelers), the supposed spirits that live inside cotton trees, and others which are outlined in this video
).
Jamaica has also been acknowledged by the Guinness Book of World Records. The country's achievements, as a nation and by individuals, are listed below:
As of this article, the island has the record for the most books donated to charity within a seven-day period—657,061.
According to the Guinness World Record News, Jamaican sprinter Usain Bolt (who Luke Cage is NOT faster than) ran the 200-meter sprint race in the 2009 World Athletics championships in 19.19 seconds. He also ran the 100-meter sprint race earlier in the competition in 9.58 seconds.
According to this 2020 article, Brandon Chin Loy was part of a multinational team of six participants who achieved the most chest to ground burpees (12,502) ever recorded in 24 hours.note
Oh, and Jamaica really does have a bobsled team
and a surprisingly good one at that.
For further and more in-depth information on Jamaica, check out The Other Wiki's main entry and all the links therein
.
Jamaica in fiction:
Ian Fleming liked Jamaica a lot, even building an estate he called "Goldeneye" there. As such it features quite a bit in his James Bond novels like Live and Let Die, Dr. No, The Man with the Golden Gun and the short stories "Octopussy" and "Quantum of Solace" (from the For Your Eyes Only anthology). As for the film adaptations:
The Harder They Come was the first Jamaican movie ever and has become a Cult Classic both in Jamaica and the West. Its Cult Soundtrack too.
Cool Runnings is a comedy about the aforementioned bobsled team, loosely based on reality).
Jamaica has been the location/setting for a lot of movies over the years, mon. These include the Steven Seagal film Marked for Death, and also The Lunatic, Old Story Time, Smile Orange, Third World Cop and Dancehall Queen.
Anthony Winkler, mentioned above, bases his novels' settings in Jamaica. On this wiki, his listed works are: The Painted Canoe (set in Port Antonio), The Lunatic (set in St. Ann locale Moneague), The Great Yacht Race (set in Montego Bay), Going Home to Teach and The Duppy.
Out to Lunch!: The third world takes place here.
Dee Jay from Street Fighter and Hermes from Futurama hail from here.
The Island Fiction series of young adult novels (inclusive of Timeswimmer and Night of the Indigo) has Jamaica as its primary setting.
Luke Cage (2016) brings on the Jamaican-raised Bushmaster in season 2 and features heavy patois in his dialogue.
Akan Mythology: The great majority of slaves brought to Jamaica were Akan. Because of this Akan traditional beliefs and stories persisted.
See also:
---
the Jamaican flag
The flag's colors combines the Ethiopian and Marcus Garvey versions of the Pan-African colors (but removing red). The golden saltire of the shining sun divides the field into black and green quarters symbolizing the Jamaicans' strength and creativity, and the vegetation, respectively. It is the only national flag to not contain the colors red, white or blue.
---
The Jamaican national anthem
Eternal Father bless our land
Guard us with Thy mighty hand
Keep us free from evil powers
Be our light through countless hours
To our leaders, Great Defender,
Grant true wisdom from above
Justice, truth be ours forever
Jamaica, land we love
Jamaica, Jamaica, Jamaica, land we love.
Teach us true respect for all
Stir response to duty's call
Strengthen us the weak to cherish
Give us vision lest we perish
Knowledge send us, Heavenly Father,
Grant true wisdom from above
Justice, truth be ours forever
Jamaica, land we love
Jamaica, Jamaica, Jamaica, land we love.
---
Government
Unitary parliamentary constitutional monarchy

Monarch: Charles III
Governor-General: Patrick Allen
Prime Minister: Andrew Holness
House Speaker: Marisa Dalrymple-Philibert
Senate President: Tom Tavares-Finson
Chief Justice: Bryan Sykes
Opposition Leader: Mark Golding
---
Miscellaneous
Capital and largest city: Kingston
Population: 2,726,667
Area: 10,991 km² (4,244 sq mi) (160th)
Currency: Jamaican dollar ($) (JMD)
ISO-3166-1 Code: JM
Country calling code: 1 (area codes 876 and 658)
Highest point: Blue Mountain Peak (2256 m/7,402 ft) (116th)
Lowest point: Caribbean Sea (7,686 m/25,217 ft) (-)