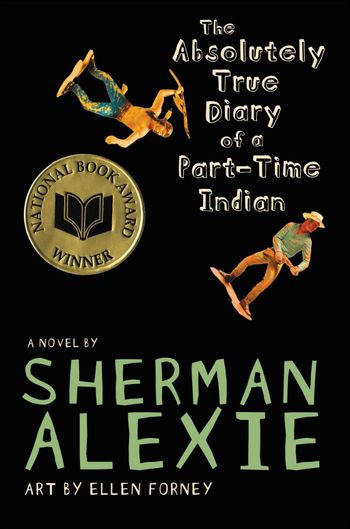 Imagine you're an American Indian. No, not a Memetic Badass or Magical Native American. No, imagine you're born with hydrocephaly, ten extra teeth, and you've had glasses since age 3. And you have a lisp and stutter even in high school. Now imagine you go to a white school. And your reservation friends hate you for it. And even there, you're smarter than the teachers.
That is the world of Arnold Spirit Jr. in Sherman Alexie's The Absolutely True Diary of a Part-Time Indian.
---
Tropes:
The Beautiful Elite: Penelope. Not really "evil" like they usually are, just seriously messed up.
Bittersweet Ending:

Grandmother Spirit, Mary, and Eugene die (in three separate alcohol-related accidents), but Arnold survives his first year at Reardan High, earns the respect and friendship of his white classmates, and repairs his friendship with Rowdy.

Brains and Brawn: Arnold is socially awkward but highly intelligent, and Rowdy is the toughest kid on the reservation who beats up people just to get his anger out, and frequently defended Arnold from bullies by beating them up.
Noble Savage: Discussed and ultimately deconstructed by Arnold — he hates his family's poverty, and says that while they didn't have technology, that didn't mean they were perfectly happy the way they were and had a contempt for technology.
Noodle Incident: A Scholastic edition describes a racist joke told to Arnold which provokes him to punch the Jerkass who tells it as "involving Indians, African-Americans, and buffalo" rather than repeating it.
Racist Grandma: Inverted, as Arnold's grandma is the only character besides Arnold who is tolerant of homosexuals.
Romance Novel: Parodied with Mary's romance novels.
Sesquipedalian Loquaciousness: Gordy has a vocabulary that Arnold finds better suited to a college professor than a high school freshman.
Shoot the Dog: Arnold's dog Oscar gets sick very early in the book, and since they can't afford to take him to the vet, the only thing they can do is take him out back and shoot him.
---