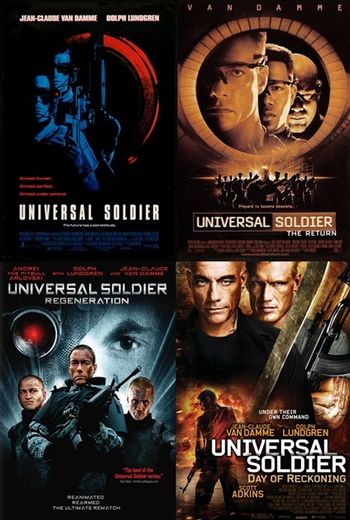 Universal Soldier is an action franchise starring Jean-Claude Van Damme and Dolph Lundgren. It encompasses six films (some of which are not canon).
The first film, Universal Soldier, centered around "UniSols," Super Soldiers made from the bodies of fallen U.S. soldiers brought back from the dead, and the conflict between two soldiers, Luc Deveraux (Van Damme) and Andrew Scott (Lundgren), who had killed each other in Vietnam, as they start to regain memories of their feud.
It was followed by two direct-to-video sequels in 1998: Universal Soldier II: Brothers In Arms and Universal Soldier III: Unfinished Business. Brothers In Arms has the UniSol program being used by mercenaries to smuggle diamonds, while Unfinished Business has Deveraux helping Veronica Roberts clear her name, while Deveraux's brother is cloned and turned into a new UniSol. These sequels featured none of the original cast or crew, and are largely considered to be inferior to the original.
Brothers In Arms and Unfinished Business were retconned out of continuity in 1999 with the theatrical release of Universal Soldier: The Return. The Return features ... the return of Jean-Claude Van Damme in the lead role.
The Return was then dropped from continuity when the Direct-to-DVD film Universal Soldier: Regeneration was released in 2010. Regeneration received a direct sequel, Universal Soldier: Day of Reckoning, which was released to video-on-demand services in October 2012, followed by a theatrical release one month later.
Has absolutely no relation to the 1971 film Universal Soldier, which is most infamous for being George Lazenby's first post-Bond role. Nor has it any relation to the obscure 2000 AD strip.
---
This series provides examples of:
We Can Rebuild Him: Using a combination of advanced surgery techniques, Bio-Augmentation, deep tissue electrical shocks, high-performance nutritional supplements, muscle boosters and a memory clearance drug. Later generations of UniSols benefit from all of those, along with gene therapy for extra measures and cloning, which extends the service life of a UniSol.
Western Terrorists: The terrorists that take over the Hoover Dam in the first film and the terrorists that take over Chernobyl in the third (official) film.
---