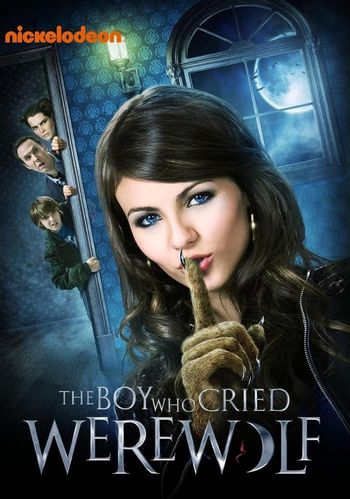 A live-action movie by Nickelodeon, first aired on October 23rd, 2010, starring Victoria Justice as Jordan Sands.
The story begins with the Sands family, buried under bills and debt, receiving unusual news: their uncle-in-law, Dragomir Vucovic, has passed away, and left his entire castle to his late grandniece's family. Believing that selling the mansion could prove to be a remedy for their economic problems, Jordan, Hunter and their father, David, make the voyage.
There to greet them is Madame Varcolac (Brooke Shields), caretaker of the castle and close friend of the late Dragomir. The evening of their arrival, she gives them one rule: stay inside your room at night, and lock the door.
That doesn't really happen. Once their Internet fails, Jordan and Hunter search the house for its wireless router, eventually discovering it inside a hidden laboratory. While Hunter works with the 'net, Jordan examines the many gruesome objects around the room, eventually taking a curiously-placed vial of blood marked as, "L.B. 217."
When Hunter pulls a prank on her, and she drops the tube, Madame V comes searching. In her hurry to hide from the creepy caretaker, Jordan accidentally steps on the glass shards, stabbing her foot and injecting herself with the foreign blood.
Too bad for her that blood just so happens to be from a werewolf.
The remainder of the story revolves around Jordan, Hunter and Madame Varcolac attempting to cure her before the next full moon, at which point it becomes impossible to undo. Along the way, David begins dating real estate agent Paulina, vampires who want the mansion attack, and the history of Dragomir Vucovic is explored.
Shares its title with, but is unrelated to, a 1973 film.
---
The Boy Who Cried Werewolf contains examples of:
Eerie Pale-Skinned Brunette: Madame Varcolac is pale-skinned with dark brown hair and very creepy at first, as the caretaker of Wolfsberg Manor. However, she turns out to be good.
Foreshadowing: A good deal of it, with

Hunter's ability to read the tombstone's hidden writing

being one of the biggest cases.
Freudian Excuse: Hunter pulls so many pranks because that's what he and his mother used to do together.
---