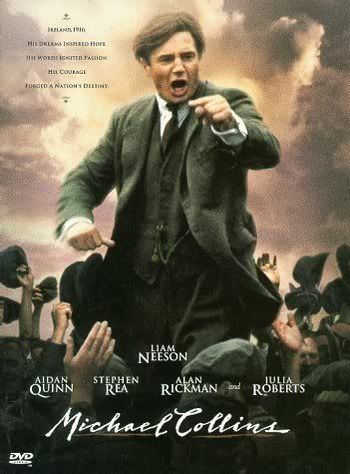 Michael Collins is a 1996 biopic about the eponymous Irish revolutionary. It was directed by Neil Jordan and stars Liam Neeson, Stephen Rea, Alan Rickman, Aidan Quinn, Charles Dance, and Julia Roberts.
Set between 1916 and 1922 the story follows Michael Collins (Neeson) as he builds the Irish Republican Army into a fighting force capable of taking on the British Empire, and achieving independence for Ireland. While he eventually succeeds in driving the British Government to the bargaining table, the compromises that must be made serve to drive the Irish apart, and Collins finds himself at war with his own former comrades and friends.
The film has a slightly undeserved reputation for historical inaccuracy; while it does take certain liberties and definitely conflates certain characters, it doesn't approach the level of Braveheart. It also doesn't pretend to be remotely objective.
A huge hit in Ireland where the real life Collins is a national hero for Irish Nationalists (and reviled by Irish Unionists as simply a terrorist godfather). It is, in fact, the most successful Irish-produced movie ever made. Helping was its being given the Irish equivalent of a PG rating (despite its highly violent content); the board decided that, due to its historical material, parents should be allowed to determine whether or not their children should see it.
Compare and contrast The Wind That Shakes the Barley, which covers the same period.
---
This film provides examples of:
---