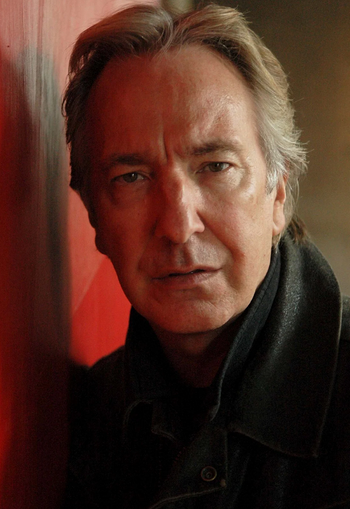 "One of the sweetest, kindest, nicest and most incredibly smart men I've ever met. Prior to acting he'd been a graphic designer and he brought the considered, laser-like precision of that profession to his work."
—
Brian Cox
on Rickman in his autobiography
Putting the Rabbit in the Hat
For someone who didn't play villains, he did it very, very well.
Alan Sidney Patrick Rickman (21 February 1946 – 14 January 2016) was an English actor and director, known for playing a variety of roles on stage and screen, often as a complex antagonist. After doing the standard English Man In Hollywood origin full of William Shakespeare, theatre and single-episode television spots, he managed to move over to the USA by serving his revenge cold as the Vicomte de Valmont (a very interesting man with some questionable morals) in Les Liaisons Dangereuses on Broadway. He also starred in Truly, Madly, Deeply, a cultured version of Ghost (1990). Then his first big screen role was the lovable Magnificent Bastard Hans Gruber in Die Hard, who set up a Batman Gambit in order to steal 600 million dollars in negotiable bearer bonds. He had to kill a few people to get the money, which was certainly not very nice, but he did so with memorable Bond One-Liners, and personally ad-libbed the infamous, "Mr. Takagi did not see it that way ... so he won't be joining us for the rest of his life." To this day, Hans is still regarded as one of the greatest villains in movie history.
There is also the pantomime villain Sheriff of Nottingham in Robin Hood: Prince of Thieves, who proved to be a better thief than that Costner fellow by stealing every scene he was in, not even considering the money he raked in taxes. Deliciously villainous and by far the most interesting character in the movie.
Also, while Severus Snape in the Harry Potter films is meant to be a Nominal Hero with a not-so-happy past, for some reason people kept feeling sorry for him, instead seeing Rickman's Snape as a normal guy who just needed a hug — as well as feeling a few other things.
He also played Eliot Marston in Quigley Down Under, as well as Judge Turpin in Tim Burton's 2007 film adaptation of Sweeney Todd: The Demon Barber of Fleet Street. Regardless of these roles, there were plenty of clearly not villainous, still very interesting roles that he had performed.
He played, of all things, a painter named Ed in 1989's The January Man. He played the lead in Mesmer, the 1994 biopic about pioneering hypnotist Franz Anton Mesmer. He played Colonel Brandon in the 1995 film adaptation of Sense and Sensibility. He was the Metatron, the angel people are really speaking to when they claim to speak to God,note Or they're just talking to themselves. in 1999's Dogma (being on fire in his first on-screen appearance is certainly interesting), a role which he took after being a fan of Kevin Smith's Chasing Amy but with one strict condition: don't change anything in the script. In 1999 he starred in Galaxy Quest, where he played a Shakespearean actor slumming it in sci-fi. In 2003, he appeared in Love Actually playing a caring yet utterly deadpan office boss who may or may not have had an affair with his assistant. He was the voice of Marvin in the film version of The Hitchhiker's Guide to the Galaxy (2005). He also played Ronald Reagan in Lee Daniels' The Butler.
Further, Rickman recited poetry.
Very interesting poetry. And he made tea
in a very interesting way.
He and Katherine Viner, then editor of British newspaper The Guardian, compiled the one-woman play My Name Is Rachel Corrie out of the letters, emails, and journals of the title character; it was first staged in 2005. He directed two films, The Winter Guest (1997, adapted from the 1995 play) and A Little Chaos (2014).
A classic anecdote told by John Sessions on QI, as seen here
described Alan's view on his roles.
The world expressed collective sorrow to learn of Rickman's passing from pancreatic cancer, at the age of 69, on January 14, 2016. That was only four days after the loss of another British icon, David Bowie.
---
Notable film credits:
When Alan saw the breadth of his article, he wept, for there were no more tropes to conquer:
---
---