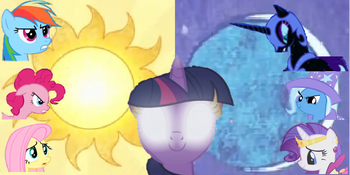 He (Starswirl the previous Avatar) smiled at her for a moment before loud laughter lifted through the air, filled with malice and cruelty. His head whipped around and his eyes narrowed. "You must go. Now," he said as he reached out and pushed her, sending her plummeting down towards the earth below. "Do not forget what I've told you! You must find and learn all the elements, find the other five and restart the cycle of sun and moon!"
A Fusion Fic combining My Little Pony: Friendship Is Magic with Avatar: The Last Airbender. When Friends Rainbow Dash, Pinkie Pie and Fluttershy discover a purple rock, it breaks apart revealing a unicorn: Twilight Sparkle. Not only can she Firebend, but she reveals herself as the long lost Avatar of their world. And thus begins a long journey to defeat the water nation, stop Nightmare Moon, and evade Princess Rarity to save the world. Yet not all is quite as it seems, and a greater menace lies on the horizon. One that will take more than just mastering the 4 elements to defeat.
This fic takes on the great task to combine these 2 dynamic stories, and try not to make any of it too generic or too easy of a copy from the sources. While the general plot follows the Last Airbender, the author can get really dynamic in how she gets there, including changing some conventions that you wouldn't expect. It's a great read for fans of both series.
Now with a continuation: Avatar: Legend of Diamond Tiara
---
Like the series it was based on, it has 4 parts:
Series now complete, a sequel has already began under the name: Avatar: Legend of Diamond Tiara. Please help with both trope pages.
---
This fanfic contains examples of: