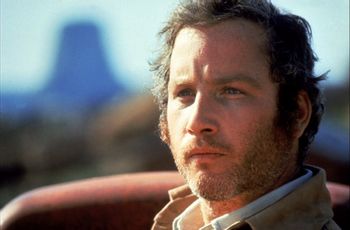 "I'm not going to waste my time arguing with a man who's lining up to be a hot lunch."
Richard Stephen Dreyfuss (born October 29, 1947 in Brooklyn, New York) is an American actor of film, television, and stage. He is one of the greatest Deadpan Snarkers of all time.
Dreyfuss was born in Brooklyn, and moved to Los Angeles with his family at the age of nine. He studied drama while in school and made his television debut in 1964 at the age of 17. His first big-screen speaking role was a bit part in the 1967 film The Graduate (in which he had one line). Dreyfuss's Star-Making Role came six years later in American Graffiti, which was also the star-making job for director George Lucas. Dreyfuss appeared in a string of hit movies throughout the 1970s that included an Academy Award for Best Actor for The Goodbye Girl. His Best Actor award at the age of 30 set a record for youngest recipient that stood for 25 years until Adrien Brody broke it with his win for The Pianist.
After a fairly serious cocaine addiction put Dreyfuss's Hollywood career on hiatus for a while, he made a comeback with the 1986 film Down and Out in Beverly Hills, and he's stayed busy and active ever since. In his spare time he founded the Dreyfuss Civics Initiative to encourage the teaching of civics in American schools. In his other spare time he's dabbled in literature, co-writing the novel The Two Georges.
---
Filmography:
open/close all folders
Film roles
Television roles
---