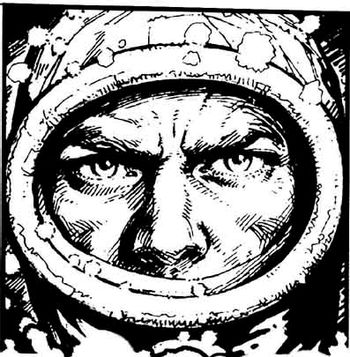 "When the time for reflection comes and they fully realize what has occurred, how will I ever ease their sorrow?"
— Juan Salvo, on how bad it was before it got worse.
El Eternauta ("The Eternaut") is the most famous Argentinian Comic, (alongside Mafalda. And maybe Cybersix, assuming people remember it was an Argentinian comic book). It was first published in a weekly basis from 1957 to 1959 in the Hora Cero magazine, scripted by Héctor Germán Oesteheld and featuring art by Francisco Solano López.
The story is set about a decade into the future where a deadly snowfall suddenly strikes. The protagonist - who along with his family and a few friends was sheltered safely at home - must then try to survive in the new desolate and hostile environment: finding rations to live, avoiding all contact with this fluorescent snow that kills everything it comes in contact with, and, most importantly, battling fear, desperation and the potential threat of fellow human survivors. As the story progresses, the real cause of the snowfall is revealed and the protagonist is quickly drafted into a makeshift resistance army.
There is a sequel, made in 1976-77, which is a bit Darker and Edgier, and mostly regarded quite a good comic but not as brilliant as the original. There was later a third installment, known for lack of endorsement by the original authors, with Oesterheld being already dead and hired writers and artists who remained anonymous at the time. Starting in The '90s, a lot of other sequels and homages, both official and unofficial, were released, cementing it as an important part of Argentine pop culture. Solano López eventually created the Universo Eternauta brand ("Eternaut Universe") in order to publish both new and old (with bonus material) stories.
Plans for making The Movie have been tossed around for decades. It was announced on 2020 that a television series was being produced by Netflix and directed by renowned filmmaker Bruno Stagnaro. The series will adapt the story to our contemporary setting instead of 1950s Buenos Aires, and is currently set to be released by Netflix on 2022.
There are translations to English, French and Italian, Italy being a country where El Eternauta hit it bigtime and a major reason for the sequel being made. Besides Argentina, the last original edition is available in Spain too.
List of publications:
El Eternauta, First Part: (1957) By Oesterheld and Solano López. The original that started it all, made purely of awesome. Regularly reprinted, with 2007's 50th Anniversary edition being a standout.
El Eternauta, Remake: (1969) By Oesterheld and Breccia. This included several drastic changes to the storyline, which coupled with Breccia's weird and experimentalist approach arose an uproar from the fans. Consequently, it got rushed up. It's not merely that the alien invaders are depicted as The Empire, a certain somebody even helps them and all!
El Eternauta: Segunda Parte: (1976) By Oesterheld and Solano López. A direct, Darker and Edgier sequel. Drops most of the six hundred and seventeen different themes present in the first part in favor of a more direct and arguably leftist message. Generally considered at least a worthy sequel. Last work by Oesterheld before his forced disappearance.
El Eternauta, Third Part: (1983) By Ongaro, Morhain and Oswal. A controversial, radically different sci-fi comic, reusing the characters in some uninspired setting. It was not aproved by the surviving author at the time.
El Eternauta, The Repentant World: (1997) By Maiztegui and Solano López. Featuring talking cows.
El Eternauta, The Cosmic Hatred: (1998) By Muñoz, Barreiro, Taborda and Rearte.
El Eternauta, Returns: (2003) By Maiztegui and Solano López.
El Eternauta, The Calling Dog and Other Stories: (2010) By Kern, Solano López and others.
WARNING: Roaring Rampage of Spoilers ahoy!
---
Tropes:
---