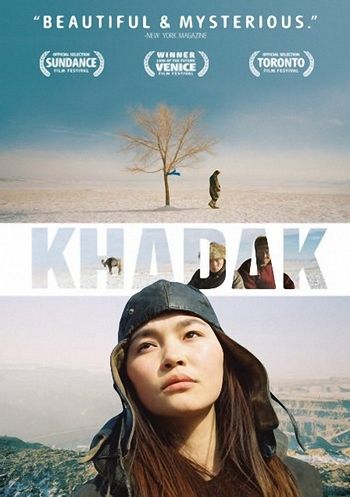 Khadak is a 2006 Belgian production, set in Mongolia, featuring an all-Mongolian cast. Bagi is a young Mongolian nomad, living out on the steppe with his mother and grandfather. He has epilepsy, and one day he has a seizure which leaves him in a coma. A shamaness brings him out of his coma. The shamaness tells his grandfather that Bagi is destined to be a shaman, but Bagi ignores the message.
Soon thereafter government officials arrive and tell the family that livestock in the area have caught a plague and that Bagi's family, and the rest of the local nomads, must leave the steppe and come to town for work. Their yurts are destroyed and their animals confiscated. Bagi's family winds up in a crumbling apartment building. The plague story turns out to be a trick used by the government to get the nomads off the land, which has been turned into an enormous coal mine.
Bagi, deeply unhappy, goes out wandering one day and finds a young lady named Zolzaya, who is stealing coal from a coal train. Bagi helps her to bag up coal, but they are both arrested. Zolzaya belongs to a group of musical performers, all of whom have been arrested and imprisoned. Bagi has another seizure, brought on by a vision of the shamaness. He is taken to a doctor and gets diagnosed with epilepsy.
Then things get really trippy. The latter portion of the movie abandons linear narrative for allegory and symbolism, and is not easily summarized here.
---
Tropes:
---