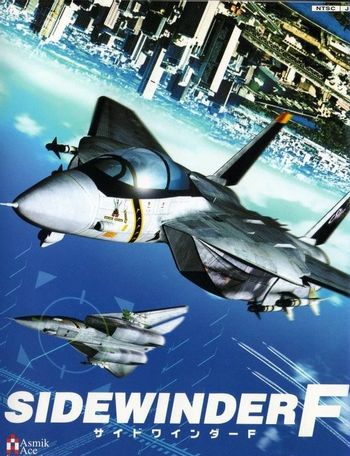 Sidewinder is a series of combat flight games developed by Bit Town and produced by Asmik Ace Entertainement. It comprises the following games:
Sidewinder (PS1, 1996). Released as Bogey Dead 6 in North America and Raging Skies in Europe.

As the fighter ace Diver 11, you've been hired to stop various terrorists plots around the globe.

Sidewinder 2 (PS1, 1997)

A group of rogue corporations have banded together to conquer the world. In response, the U.N has assembled an airforce.

Sidewinder MAX (PS2, 2000)

The developing country Eskara is caught in a bloody civil war betwen the pro-Free Market Reform Alliance and the pro-socialism Goshawk-Goskill government. Mercenary pilots called "Fighting Birds" have been hired to put an end to the conflict.

Sidewinder F (PS2, 2001). Released in the west as Lethal Skies Elite Pilot: Team SW

The release of Siberia's methane reserves cause Global Warming to become irreversible, resulting in much of the world being flooded. Life on artificial "mega-floats" is now the norm, and the surviving nation have rallied the banner of the World Alliance and its military wing, the Frontier Nations (FN). Opposing this new world order is the weapon-dealing Republic of Gurtestein and disfranchised states, who have united as the World Order Reorganisation Front (WORF). As a crack pilot of the elite Team SW fighter team, you must stop the WORF and its mysterious "M-Plan".

Sidewinder V (PS2, 2003). Released in the west as Lethal Skies 2

Three years after the end of the FN-WORF conflict, the Frontier Nations's Newfoundland base is attacked by an unknown group. The attack is soon revealed to be the work of the Alliance of Nations for Greater Independance and Liberty (ANGIL), a group of European countries disatisfied with the World Alliance's leadership and backed by surviving elements of the WORF. As Earth enters a new global conflict, a new Team SW is called into action.
The series started as a straight clone of Ace Combat, though one with somewhat more realistic leanings. The PlayStation 2 installment introduced more realistic elements, such as slightly more realistic physics, limited weapon loadouts, simulated g-force effects, and fewer mission targets to facilitate limited loadout.
This video game series provides examples of:
---