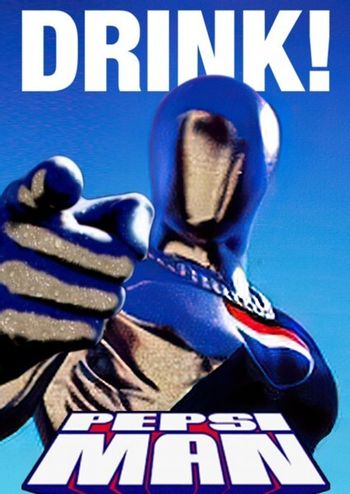 "There isn't enough Pepsi for everyone, and violence has flared up amongst those wanting Pepsi! Exhausted people are collapsing because they can't refresh themselves with Pepsi! If it continues like this, there will be a worldwide shortage of Pepsi, and we'll have a real problem!"
Pepsiman is a 1999 Licensed Game for the PlayStation developed by KID, based on a series of Japanese TV commercials featuring Pepsi's Product as Superhero mascot, Pepsiman.
The player controls Pepsiman, who runs and jumps through four 3D stages on urgent missions to deliver Pepsi to thirsty American citizens. In between stages, Mike Butters sits at home guzzling Pepsi and saying wacky slogans (in English with Japanese subtitles).
Pepsiman previously appeared as a Secret Character in the Japanese Sega Saturn version of Fighting Vipers. The surprising resemblance between this game and the first stage of Sonic Adventure 2 is probably coincidental.
Reviewed by the Angry Video Game Nerd here
.
Compare Coca Cola Kid, a game for a product from Pepsi's rival company.
---
This game contains Pepsi and examples of the following tropes:
---
"Pepsi for TV-Game! Ha ha ha ha ha..."