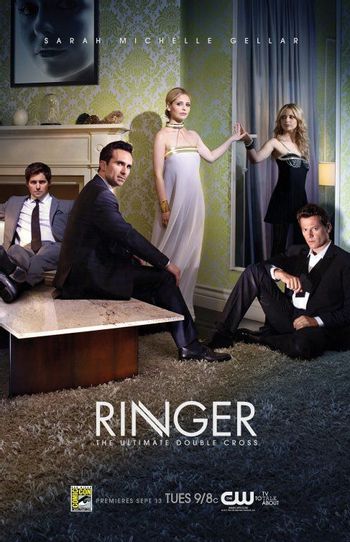 this is the story of two Sisters... who share the same Face.
Opening caption on every episode other than the pilot. (And yes, "Sisters" and "Face" are capitalised and "this" isn't.)
Sarah Michelle Gellar is back on the small screen!
This series aired during the 2011-2012 season, and features a twisting Film Noir story in which pretty much everyone has something to hide. Gellar plays Bridget Kelly, a prostitute who witnesses a mob hit and is the case's only lead. Terrified of being murdered before she can testify, she escapes police custody and meets up with her identical twin sister Siobhan (also Gellar, naturally). They take a boat trip, and Bridget wakes up from a nap to discover Siobhan has vanished. She has no idea what's going on, but knows an opportunity when she sees it and takes over her sister's identity when she returns to shore, helped by the fact that Siobhan never told anyone she had a twin sister.
Bridget soon discovers that Siobhan had some pretty big skeletons in her own closet, being stuck in a loveless marriage and having an affair with the husband of her best friend, just for starters. She's forced to muddle her way through a life she knows nothing about, always in fear that her own past will catch up to her, with the only person she can lean on being her drug sponsor Malcolm, the only person who knows who she really is.
The series never saw big success and was cancelled in May of 2012.
This series is notable as it is a co-production between Disney's ABC Studios, Warner Bros Television and CBS Studios.
---
This series contains examples of:
---