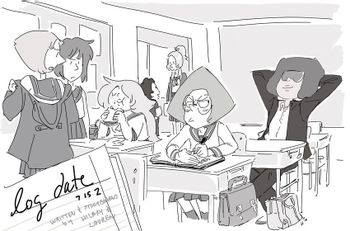 Peridot is inside the barn, beginning a log with her tape recorder. She documents her own shock in her disobeying Yellow Diamond and calling her a clod, but when she stops recording, she plays back "a traitorous clod" numerous times. She excitedly celebrates the fact that she insulted Yellow Diamond but quickly falls back into hysterics. Steven asks her if she'll be okay, to which Peridot enthusiastically replies "no". Peridot explains that she used to follow every order but now she has befriended a team that is devoted to protecting the planet she sought to destroy. She still has a hard time coping with the fact that she is now a Crystal Gem. Peridot tries to throw away the tape recorder, exclaiming it "chronicles her descent into madness", and Garnet gives the recorder to Steven. Garnet takes Peridot outside the barn to talk privately, while Peridot questions if she would have to add a star to her outfit.
Steven notices Garnet and Peridot seem to get along well now, considering their hostile relationship early on, so he begins to seek his answer as to how through Peridot's tape recorder. He starts with the very first log, the day Steven gives her the recorder; She initially declines to call Steven by his name, but after he mentions that it's rude, she accepts his request. In the next log, Peridot takes note of insects and their poor choice of habitation and their capability of flight. She climbs up the roof of the barn where Greg is working to fix the roof, meeting Greg for the first time. She shoves him down and Garnet catches him below. Garnet chastises Peridot for her ignorance in assuming that humans are as robust as Gems and could survive such a fall unharmed but tells Greg to go easy on her realizing she doesn't know much about Earth (with Peridot protesting that she does). Peridot ends the log by saying that "the permafusion, Garnet, is the worst".Her next log details her experience when assigned to clean the barn. She stumbles upon a chest of clothing and is excited to try on "appearance modifiers that aren't melded to [her] body". Garnet spots her and approves of her look, but Peridot is quickly embarrassed and rips up the shorts. In the next log, Peridot notes that today is the 30th day she's stuck on Earth with the Gems. Steven celebrates the occasion by teaching her about gifting and gives her two decorated paint cans for her to use as stilts. She chases Steven off, but during the night she tries them on, thinking of how she will appear to the Gems in a positive light. The log ends with her losing control by running backward and stumbling into a rock. During the following log, she attempts to learn humor and fails to understand it because she doesn't know what a chicken is. Later, Steven tries to introduce Peridot to human entertainment via television shows, specifically the show Camp Pining Hearts. She is disgusted by the romantic scene claiming to want no part of it, but in the next 78 hours, she continuously rewatches the same episode with great attachment. Steven notices her watching the same episode and notices that she made a chart detailing the best romantic connections between specific partners and her scientific explanation as to why. This launches her into a very long explanation of her proving why Percy and Pierre "are objectively the best for each other". Garnet shows her approval.
Peridot starts the next log by mentioning that the Cluster drill is coming along well but notes the work ethic of Amethyst, just as she distracts Peridot as a shapeshifted Lion. Peridot is bewildered as to why Amethyst wastes energy shapeshifting, to which Amethyst replies to by shapeshifting into Peridot and perfectly mimicking her. Peridot is interested in Amethyst's shapeshifting and tells her to change into a chicken. She finally exclaims that she understood the joke she read earlier, prompting Pearl to make a lion pun. Peridot notes that Pearl tries to be a good partner and Amethyst is fun to be around but is still perplexed by Garnet. Garnet shows her approval. During the night, Amethyst and Pearl put the drill head on supports by fusing into Opal and lifting it. This shocks Peridot, and Garnet calls everyone off for a break. Peridot approaches Garnet and questions why she is constantly fused, considering she never uses her powers for any specific, constructive purpose. Garnet tries to talk to her and says that she appreciates their differences. She offers to fuse with Peridot to help her understand fusion, and she hesitantly accepts. They try a fusion dance, but Peridot changes her mind at the last second. Garnet appreciates her effort to fuse and to understand fusion. Peridot says she still doesn't understand why Garnet remains fused, to which she replies "I'm Percy and Pierre", which she understands.The most recent log begins with Peridot saying that she is starting to learn more about fusion. Garnet interrupts her and directly talks to Steven during the log recording, stating that its best that Steven shouldn't have listened to Peridot's logs, but she knows he is only curious because he cares about Peridot. She ends the log by telling him to give back the recorder to Peridot, a statement that Peridot did not understand at the time. She and Garnet come back to the barn with Steven and he returns the recorder to her. Garnet and Steven both give their approval to Peridot with thumbs-ups, which she returns in kind.
---
Tropes:
---