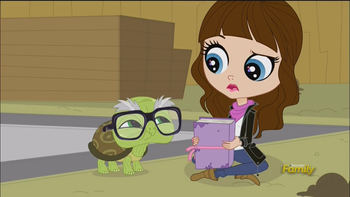 Written by Guy Toubes
In her room, Blythe records a video blog on her phone's camera, introducing herself and her life. Intending to talk about fashion in general, she soon notices she's talking only about pet fashion when Vinnie and Penny come barging in through the dumbwaiter begging for Blythe's help: Celebrity Face-Plant's series finale and an important episode of Shake-a-Leg are showing at the same time, and neither of them can miss them. Blythe quickly settles it by telling them to record Celebrity Face-Plant for later and allowing Vinnie to watch Shake-a-Leg as it airs, telling them that in their panic, they wrecked Blythe's video blog. Realizing her phone is still recording, Blythe rushes to her bed and replays her footage, where Blythe plainly looks like she's talking with animals. Though she is ashamed of this footage, Vinnie and Penny like the way they look in it, then head back to the dumbwaiter to set up the DVR. With Blythe by herself again, she chats with Youngmee about her concerns, though Youngmee points out that Blythe is already pretty eccentric.
Back in the day camp, Vinnie and Penny head over to the TV, but neither of them know how to work the DVR, so they immediately decide to go consult Blythe again about it. Blythe laments to Youngmee about how she never really gets to pursue other interests than fashion because animals keep requesting help from her, and that is demonstrated as Vinnie heads back to Blythe's room alone. Up there, he overheads Youngmee asking if Blythe will stop talking to pets, which Blythe answers in the affirmative. This being the only part of the conversation Vinnie hears, he closes the dumbwaiter and leaves in horror as Blythe says she's just joking.
Later on, as Blythe restocks the shelves of pet food, the Littlest Pet Shop regulars, hiding behind a counter, talk over each other in panic except Russell, who figures it must be a misunderstanding. Vinnie remains convinced, however, so Russell goes right up to Blythe to ask directly. Blythe contines to ignore Russell, humming a song, which then convinces Russell too. Penny freaks out over this news, particularly arbitration of simultaneous TV programming, and the pets head back to the day camp. Mrs. Twombly returns and attempts to introduce Blythe to a tortoise named Speedy Shellberg, but requires much effort to get Blythe's attention—as it seems, Blythe was listening to loud music on her earbuds that rendered her unable to hear anything else. According to Mrs. Twombly, Speedy is 150 years old and has a tendency to wander and get lost, and according to Speedy himself, he has gone through at least 22 owners. Blythe wonders how hard it could be to keep track of a tortoise, but as soon as she has her back turned, Speedy starts walking down the countertop.
At the day camp, the regulars are in an uproar over Blythe ignoring them. Pepper figures she can get Blythe to laugh though Zoe doubts her, but before they can act, Speedy comes in through the pet door and introduces himself, then rants about the hot sun. Vinnie tries to correct him, namely that they're indoors, but that only angers Speedy further. When Speedy tells Vinnie he's 150 years old, Vinnie then imagines what life would be like if they were that long-lived. In that fantasy, he chats with Sunil about how every part of him has been replaced by mechanical parts except his head and his tail. The other pets then arrive and wish Blythe a happy birthday as she travels down the chute, but she ignores them, using her jet boots to travel away. This sparks the thought of spending 150 years without talking to Blythe and worries the seven of them further. Meanwhile, Speedy goes traveling away. He sees the dumbwaiter in the wall and heads towards it, mistaking it for a shower stall.
Up in Blythe's room, Blythe starts a second attempt at her video blog. This time, she chooses to talk about the next big thing she intends to do. She subsequently realizes she has no idea what it could be when she hears Speedy loudly singing in the dumbwaiter, opening the door to find Speedy in there trying to shower. Blythe informs him that he's in a dumbwaiter, not a shower, and, seeing a human in the midst of something, asks if he's interrupting. Blythe picks Speedy up and says no, but Speedy can detect that Blythe is emotionally troubled. Not long into the conversation, Speedy identifies Blythe as a former owner named Betty Smith, who was also able to speak to animals. It takes a short moment for Blythe to take it in, and by then, Speedy has wandered into an adjacent hallway. Blythe finds Speedy there and asks if Speedy really meant it, to which Speedy tells Blythe that Betty would confide in Speedy her secrets. Howeever, Blythe cannot get any more information out of Speedy as he constantly veers off topic and eventually gets too distracted practicing calisthenics to pay any further attention.
The pets ponder in the day camp about how to get Blythe to pay attention to them again. Russell suggests reverse psychology, which Vinnie interprets as doing things in reverse and Sunil interprets as going back in time. Speedy makes his way to the day camp thinking it's a bus stop, and while Russell quickly dismisses him, Vinnie requests Russell to give Speedy a shot as he might have some good ideas due to his age. Vinnie directly tells Speedy that Blythe won't talk to them anymore, and Speedy responds that Betty went through it prior and that it's just a phase. Just as Speedy is about to start explaining, however, he requests to be taken to a bus stop.
Blythe plants her face onto the table in the kitchen. Her father Roger happens to pass by, sees Blythe, and asks what could be wrong. She tells him that she has no idea what to do with her life, but Roger consoles her, telling her she's still young and that it's perfectly normal to feel conflicted. When Blythe talks to Roger about a tortoise downstairs who's 150 years old, Roger says that Blythe's mother used to have a pet tortoise named Speedy Shellberg. Roger also refers to Blythe's mother as Betty, and while her given name was Lauren, Roger points out that Betty was her nickname and that her surname was Smith before she married. With that in mind, Blythe immediately heads to the day camp via the dumbwaiter and frantically asks the pets where Speedy has gone. Employing Russell's reverse psychology, however, the pets ignore her...except for Penny, who informs Blythe they're using reverse psychology. Blythe asks about what happened to cause it, which she sees as getting Blythe to talk to them again. The pets cheer and crowd around Blythe, who is still confused as to where the idea came from. When Zoe says that Vinnie told this to everyone, Blythe remembers that she was venting to Youngmee and that she never meant it and explains what happened.
With that out of the way, Blythe asks about where Speedy had gone. She searches all over the day camp but cannot find Speedy, not even where Russell was certain he'd be. Vinnie mistakes his shell for a decorative rock, so they all leave the room to continue searching. As they leave, Speedy gets out of his shell to wander elsewhere for his afternoon constitutional. When Blythe questions the pets where they last saw him, Vinnie says he was waiting for the bus. Blythe figures this means he's already wandered outside, and sure enough, they see him attempting to cross the street in fast-moving traffic. In an attempt to catch up to him, Speedy successfully finds a bus stop and gets on the next bus before Blythe and the others can reach him. They give chase, only to find Speedy is now at a skate park trying to speak to a helmet. Before they reach him, the skateboard he's on rolls down a ramp and then a hill into a construction zone. A crane picks him up and hurls him to the top of the unfinished building, but as Blythe and the gang make their way up, Speedy goes into an elevator and heads back to the ground. He notices he's not in a health club and heads back up. The others realize that he must've taken the elevator back down, but they reach the ground in time to hear the elevator go back up. An exhausted Blythe takes the stairs up with the pets behind her and see Speedy jump off a plank and into a pit to be filled with concrete. She is too late to stop him from jumping, but he has a parachute so he can safely land. As Blythe and the pets get back to the ground, Blythe is able to catch Speedy in her arms slowly drifting down. Russell asks how Speedy has a parachute in his shell, to which Speedy replies that kids used to stick small objects in his shell, which he is aware of and can use as he sees fit, and in this case the parachute was part of a green army man toy.
Speedy has something else for Blythe as well—still mistaking her for Betty, he pulls out her journal, whose contents are only for Betty and Speedy to see, Speedy explaining that this journal was kept secret so that Betty's ability to talk to animals remains a secret. Blythe takes a read inside of it and discovers Betty went through many of the same emotions Blythe is currently going through. Speedy reminds Blythe that Betty wasn't sure what to do with herself either but that it turned around when she gained the ability to communicate with animals, and that "Betty" still has a lot of her life left and thus plenty of time to come to a decision.
Back in Blythe's room, Blythe attempts her video blog for the third time. This time, she immediately introduces the Littlest Pet Shop regular pets and, with a far more confident tone, says she doesn't know what to do with her life but that only means her life will be full of possibilities in the future. She notes that these pets are a frequent cause of distractions, but those are the distractions that fill her life with meaning.
This episode contains examples of (YMMV entries go here):
---