Recaps

: Index | 1 | 2 | 3 | 4 | 5 | 6 | 7 | 8 | 9 | 10 | 11 | 12 | 13 | 14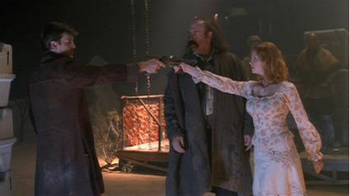 "Yeah. That went well."
— Mal, as he sits naked on a rock in the middle of a desert
Original air date: 12/9/2003 (DVD) (produced in 2002)
This is a How We Got Here episode that begins with Mal sitting naked on a rock in the middle of a desert. We then go back in time three days to a rendezvous between Mal and an old war buddy named Monty. Both are working on part of a smuggling job, where Monty drops a cargo off on an uninhabited moon, only for Mal and crew to arrive shortly thereafter, pick it up, and move it along. While the two shoot the breeze, Monty cheerfully introduces Mal to his new wife Brigit. Mal recognizes "Brigit" as Saffron. A furious scuffle ensues, and it only ends for good when Saffron is caught Saying Too Much, confirming that she does in fact know Mal. A distraught Monty winds up leaving the two of them on the moon. This isn't a big deal for Mal, since he just has to wait for the crew to pick him up according to plan. Saffron, however, quickly sees that it would be the equivalent of being marooned on a rarely visited desert island.
Desperate, Saffron tries to barter or beg a ride from Mal (even offering to just be taken on board the ship in a crate, so he'll know she can't work any mischief), but Mal doesn't want to hear it. Finally, she offers to let Mal in on an extremely lucrative heist, but the scene ends without indicating whether he takes her up on it.
After being picked up by the crew, Mal is told that Inara wants to speak with him, and he is put off by Inara actually being polite to him, and is soon accusing her of trying to use her "feminine wiles" on him. However, all Inara wants to talk about is business: she hasn't had a client in weeks because Serenity hasn't been anywhere near the sort of place where she could find a client. She accuses Mal of purposefully avoiding planets where they could both work, and after some more back and forth with tempers flaring, Inara calls Mal a petty thief. Mal's pride is stung by this despite Inara's apology (probably because he knows that it's true, as his last job was smuggling boxes of geisha dolls with bobbing heads), so he goes back to the cargo bay and opens up a crate with a very disheveled Saffron inside, and agrees to do the job with her.
The mark for the job is a wealthy Alliance official named Durren Haymer, who Saffron claims specialized in creating biological weapons, and used them during the war to kill off entire neighborhoods, then moved in to loot those neighborhoods for valuables. (Naturally, that alone has Mal and Zoe seeing red.) One of those valuables is the target of their heist: the Lassiter, a model of the first laser pistol ever invented, which makes it the forerunner of all those in use during the show's present, and since there are only two intact models of that laser known to exist, it's priceless. Inara vigorously objects to having anything to do with a plan laid out by Saffron, but Zoe (after a My Fist Forgives You moment) agrees to go along. The job won't be a walk in the park, however, as Durren lives on what is essentially a private floating island, and if the laser is taken out any door of the house, it'll set off alarms that will have the Feds scrambling, and they'll be certain to get a look at Serenity before the crew can make their getaway... if they can get away.
Kaylee figures out a way around this problem: Durren's estate use a drone system that airlifts garbage dumpsters directly from the bottom of the island and flies them out to be incinerated. However, if the Lassiter goes out through the garbage, it won't trip any of the door alarms, and if they can reprogram where the bin will be taken by the drone, they can send it anywhere and pick up the laser without being tracked. So while Mal and Saffron infiltrate the house during a big party Durren is throwing (blending in with the hired help), Kaylee, Wash and co. will fly to the latest such bin, and manually reprogram it to be flown to a stretch of empty desert, far from the police or any prying eyes.
All this while, Simon and River hide themselves away from where Saffron could see them, trying to make sure she has no chance to recognize them and turn them in. However, while they do this, River notes that Jayne has been afraid of them ever since Ariel, afraid they'll know that he tried to betray them.
The heist starts off well, but both parts of the crew run into problems: after Kaylee manages to reprogram the guidance for the trash bin, Jayne gets shocked trying to put it back in, knocking him out, and nearly making him fall to his death while unconscious; and while Mal and Saffron are in the study getting ready to take the gun, Durren walks in, but reacts with joy to see his long-lost wife Yolanda (as Saffron was apparently calling herself back in those days), and starts thanking Mal profusely for bringing her home.
To Mal's shock, Saffron refuses to simply hit Durren and get him out of the way, instead insisting on telling him a story about her being abducted and sold into slavery when she disappeared six years ago. After a bit of babbling about making a new life with his precious Yolanda, Durren runs off to get a reward for Mal's bringing her home. Mal bitterly recriminates Saffron for the lies she told about Durren as he goes to finish disabling the security around the laser, only to find that while he's had his back turned, Saffron has drawn a hidden gun and has it pointed right at him. Apparently, this is the part where she backstabs him and figures out a way to take the Lassiter for herself. And in the middle of this, Durren walks back in, noticeably unsurprised and unfazed by the scene.
Saffron tries to launch into an I Can Explain/Not What It Looks Like speech, but Mal shoots that down by simply telling the truth. Durren and Saffron begin a poignant confrontation, and Mal uses that opportunity to dump the laser into the garbage chute and signal for a pickup. Outside, Kaylee finally manages to return the reprogrammed guidance chip to the garbage bin Just in Time as the mechanical drone comes to pick up the bin. The drone takes it off to its destination, while Serenity flies off to return to a rendezvous point where Saffron and Mal are supposed to meet them.
Durren and Saffron continue their confrontation. Eventually, Saffron says that he's a complete fool for not calling the police the moment he saw her. Durren responds that he did, then shows them a small button on his ring: it's a panic button generally used for situations such as kidnapping and the like. "I love you, Yolanda, but I couldn't think for a second that you actually came here for me." Sirens are now audible as the police begin touching down on the grounds of Durren's estate. Saffron attempts to seduce Durren and convince him to call the police off, but he stoically refuses and begs her to get the help she needs. Now out of other options, Saffron drops him with a kick to the head, then she and Mal run for the exit. On the way out they fight with a few of the Feds, but manage to get out of the house (Saffron makes a brief stop to hack the house security system so that it will lock most of the police inside), get to their shuttle, and escape.
On Serenity, the crew discover a problem: the ship has had its ability to maneuver damaged. It looks like Saffron has sabotaged the ship a second time. Reluctantly, they conclude that they have to land and repair the damage before they can rendezvous with Mal or go to pick up the garbage bin and the precious laser within.
On the shuttle, Saffron begins shedding crocodile tears (with perhaps some touches of real regret) and begins a sad conversation with Mal about whether people can ever change. Mal is cautious, but eventually lets his guard down enough to get near her. Saffron promptly steals his gun, forces him to take his clothes off, and dumps him in the desert while she flies the shuttle over to where the bin was dropped. However, despite an increasingly frantic (and messy) search for the laser, she can't find it. Saffron finally concludes that it's gone—and turns to see that Inara (Lassiter in hand) has snuck up beside the bin and been watching Saffron in amusement. Turns out Mal and crew figured on a double cross, and during all the fuss with getting past the Feds, Inara got to the bin first, retrieved the laser, and let Saffron climb in and make a fool out of herself trying to find it. Inara seals Saffron into the bin, cheerfully telling her that the authorities should track it down in a few hours and take things from there.
Back on the ship, Jayne finally comes to in the med bay, unable to move. Simon lets Jayne thinks that he's paralyzed for a few seconds (during which Jayne is clearly terrified) before explaining that it's a temporary situation to make sure that Jayne wouldn't injure himself upon coming to. He then has a nice chat with Jayne about what happened on Ariel, and how they really should trust each other and live together instead of looking for opportunities to Back Stab each other. He promises never to hurt Jayne, despite all the times that Jayne is likely to be helpless and under Simon's knife due to the wounds that Jayne tends to pick up in his line of work, and suggests Jayne extend the same courtesy to him. River then sticks her head in to have the last word:
"Also? I can kill you with my brain."
First Inara and then the rest of the crew eventually find a still naked Mal in the middle of the desert, who acts as if nothing is out of the ordinary, and begins making arrangements to leave the planet and fence the laser. As the cargo bay doors of Serenity close, Mal reflects on how well the day went.
---
Tropes used in this episode include:
---