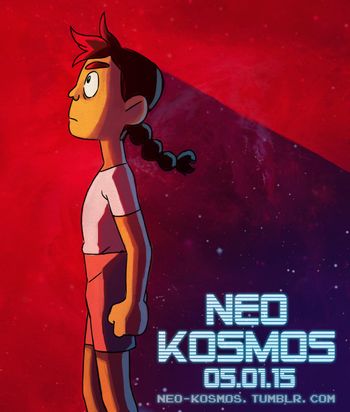 You feel like the loneliest kid in the entire universe right now. Not that you have much competition, because as far as you know there's only two other human kids in the whole universe.
NEO-KOSMOS is a webcomic, begun in May 2015, about three kids raised in captivity in space. It is written and illustrated by a two-person team: Shelby Cragg, illustrator of Apothecia and Promstuck and contributing artist on Homestuck, and Danny Cragg, storyboard artist on Steven Universe. The comic also features animation by Adrienne Garcia and music by Toby Fox.
Despite never meeting in person, Tye, Iris, and Z have become close friends over the years via instant messaging. Each confined to a single room under the care of their alien "doctors," they eat nutrient blocks, develop interests and hobbies, undergo regular checkups, and learn about the lost culture of Earth by browsing an archived copy of Wikipedia. The routine of their lives is disrupted when one of them is cleared to go on a field trip.
Details about the world and backstory are revealed slowly, with lots of room for mystery and speculation. NEO-KOSMOS is short and sweet at first, but it will be a long emotional roller coaster. Shelby Cragg says the comic was inspired by a viewing of AKIRA, and that other major influences include Homestuck, Neon Genesis Evangelion, and Fullmetal Alchemist.
At the start of December, 2017, the creators announced
that the NEO-KOSMOS webcomic would no longer be continued, and the story would reworked into a series of illustrated novels
. Currently, it is still in development: a release date has not been announced.
The comic can still be found here
.
There will be some spoilers! Read at your own risk.
---
NEO-KOSMOS contains examples of: