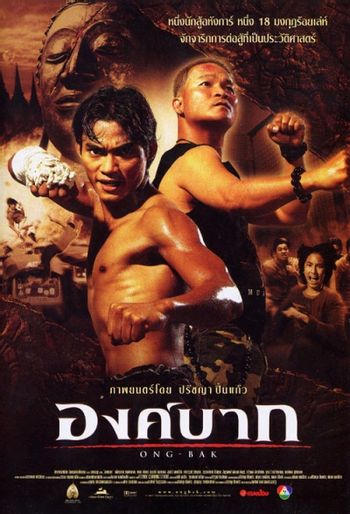 Ong-Bak is a 2003 Thai Martial Arts Movie and the film debut of Tony Jaa, showcasing his "no-strings-attached'' (as opposed to Wire Fu) style, and brought muay moran to the attention of global media.
Ting (Tony Jaa) lives in a small and peaceful village. One day, the head of a sacred Buddha statuette called Ong Bak is stolen from the village by a drug dealer working for an immoral businessman who sells it for exorbitant profits. It soon becomes the task of Ting to track the thief to Bangkok and reclaim the religious treasure. Along the way, Ting uses his astonishing athleticism and traditional Muay Thai skills to combat his adversaries.
There is a prequel released, called Ong Bak 2, which is far removed from the modern setting of the first and is essentially a Training Montage, a Roaring Rampage of Revenge, and closes with an considerable drawn out Quirky Miniboss Squad battle, involving Tony Jaa's character, called Tien, squaring off against every single "ancient" martial art developed in Asia.
Ong Bak 3 concludes Tien's story, and ties both movies with the first.
---
The film contains examples of the following tropes:
---