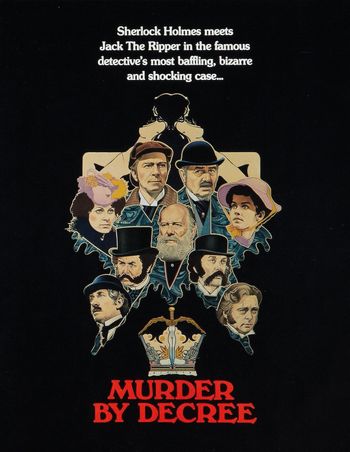 "We've unmasked madmen, Watson, wielding scepters. Reason run riot. Justice howling at the moon."
A 1979 mystery film directed by Bob Clark, starring Christopher Plummer as Sherlock Holmes and James Mason as Dr. Watson. This is the one where Sherlock Holmes hunts down Victorian London's most notorious killer Jack the Ripper, again.note He'd previously hunted him before in the 1965 film A Study in Terror. The plot of the movie is clearly influenced by Steven Knight's 1976 book Jack the Ripper: The Final Solution, which has influenced scores of works based of Jack the Ripper, most notably From Hell by Alan Moore.
London is in a state of panic. While Whitehall worries about radicals and anarchists threatening the social and political order, a mysterious serial killer stalks the slums of Whitechapel going after prostitutes. Scotland Yard is baffled, so naturally they call in Sherlock Holmes... except, they don't. The new police commissioner, Sir Charles Warren (Anthony Quayle), is adamant that Holmes not be let anywhere near the case, much to the frustration of Inspector Lestrade (Frank Finlay). Realizing something is seriously wrong, Holmes and Watson take up the case regardless and uncover a conspiracy that may rock the Empire to its very core.
Also in the cast are Donald Sutherland as Robert Lees, Sir John Gielgud as the Prime Minister, David Hemmings as Inspector Foxborough, Susan Clark as Mary Kelly, and Geneviève Bujold as Annie Crook.
---
Tropes:
---