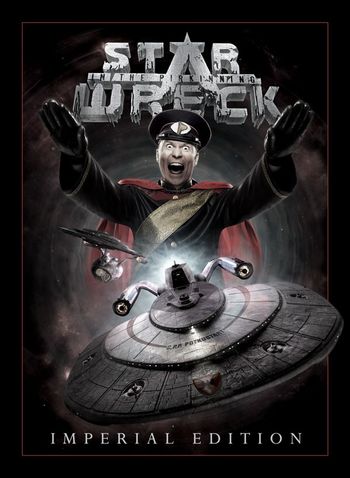 "Space, the primal frontier. These are the voyages of the starship
Kickstart
. Its five-month mission: to seek out Lebensraum for humanity and to destroy all enemies. To boldly blow up enemies where sane men fear to tread."
Once upon a time, there was a Finnish guy called Samuli Torssonen. He was a huge fan of Star Trek and a computer geek. One day in 1992 he decided to combine those two things and created a short CGI film called Star Wreck. Eventually he made more with the help of his friend Rudi Airisto, who in turn couldn't stand Star Trek and made sure to mock the hell out of it in the scripts. Star Wreck turned into a parody series of Star Trek featuring James B. Pirk, a gigantic douche in control of a spaceship called C.P.P. Kickstart, and his crew Mr. Spökö (Spook) and Mr. Fukov.
Many years later, Torssonen and his friends upped the ante and started to make a feature length live action Star Wreck film. The project kept escalating until Star Wreck: In The Pirkinning was finally released over Internet after 7 years of production. Thanks to completely professional-looking graphics, fairly good performances from amateur actors and combining the universes of Star Trek and Babylon 5 in one big parody space brawl, the film became a huge phenomenon, eventually seeing a DVD release, a revised version called Imperial Edition, a Tabletop RPG and much more. And everybody involved in the filmmaking lived Happily Ever After.
---
Star Wreck has 8 films in total:
Star Wreck (1992): A crudely-animated 2D space battle.
Star Wreck II: The Old Shit (1994): A short film with an actual plot, it follows James B. Pirk, the hapless Jerkass captain of a P-Fleet spaceship, as he bumbles around the galaxy and takes on some Plingons. Also features the insufferable Vulgar Mr. Spook and the entirely clueless Mr. Fukov.
Star Wreck III: Wrath of the Romuclans (1995): Captain Pirk and his crew find out about a nefarious plan of the Romuclans which culminates in a huge space battle. Unfortunately, Pirk has to take part if he doesn't want to get blown up by the P-Fleet's remote self-destruct system.
Star Wreck IV: The Kilpailu (1996): Admilar (sic) Pirk, having been promoted after the events of the third film, takes part in a competition arranged by the Zarquons. The Plingons and a galactic mercenary Hans Duo are also after the prize. Spook leaves the crew after getting enough of Pirk and he is replaced by the at-least-as-annoying android Info. Fukov's position is taken by a Plingon warrior, Dwarf.
Star Wreck V: Lost Contact (1997): First live action Star Wreck, where Captain Pirk and crew have to travel back in time to stop the Korgs from preventing the Earth from making the first contact with Vulgars (in a parody of Star Trek: First Contact, naturally). In the end, they are deserted in the past.
Star Wreck 4½: Weak Performance (2000): Made during the production of the sixth film to test the special effects, it's not really considered a part of the series because it consists mainly of footage from Torssonen's earlier short film Ändy Bones II. It's still canon and takes place after the events of The Kilpailu: Pirk has been demoted back to Captain and is on his way to the H.Q. He goes to play a simulation on the halludeck, but during his Andy Boneying, a vengeful Romuclan ship attacks the Kickstart.
Star Wreck: In the Pirkinning (2005): Set after the events of Lost Contact, Pirk gets fed up with life on past Earth and decides to found the P-Fleet himself. Joining forces with the President of Russia, Pirk builds a fleet and takes over the world, becoming Emperor Pirk. When Sergey Fukov discovers a maggot hole, Pirk leads his fleet through it and ends up in an alternate universe. Planning to take over the alternate Earth as well, he engages in a massive space battle with the troops of the space station Baabel 13 led by Captain Johnny K. Sherrypie. (And the film cost less than one second of Titanic.)
Star Wreck 2π: Full Twist, now! (2012): A Spin-Off of In the Pirkinning, made by Swiss filmmakers Thierry and Fabienne Gschwind. It follows the exploits of Captain Stöcklin, who's given the mission to test a ship equiped with a prototype of a new kind of twist drive: naturally, everything goes wrong and they end up drawing the attention of a new race of hostile aliens who mistake the accidental damage done by the malfunctioning prototype twist drive as an unprovoked attack. It features a multinational team, with Torssonen and Vuorensola reprising their roles as Emperor Pirk and Commander Dwarf.
The films can be viewed for free from various sources on the Internet, and the official site is here
. Torssonen and co. have since moved on and produced Iron Sky, a film about Nazis on the moon.
Not to be confused with the Alvin and the Chipmunks Go To The Movies episode of the same name. Or the novel series by Leah Rewolinski.
---
Star Wreck provides examples of:
---