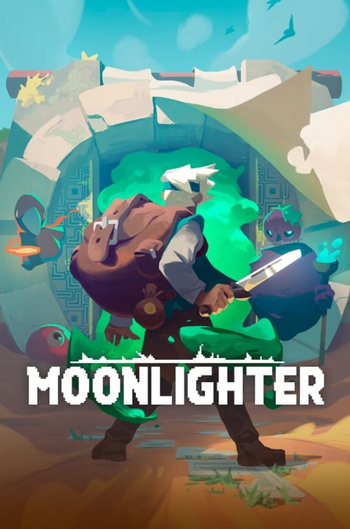 The village of Rynoka has seen better days. North of the five gates to labyrinths known as the "Dungeons", it was once a hotspot for people of all kinds, but none shone brighter than two groups; heroes, and merchants. However, a long series of incidents has caused the Dungeons to be closed for the safety of the townspeople, and Rynoka has died with them. People have packed up and left, and almost all the stores are gone, with the exception of what was once the most successful, the Moonlight.
Moonlight's shopkeeper, a young man named Will, dreams of becoming a hero like the ones who used to flock to Rynoka, and, with the guidance of his mentor Zenon, ventures into the Dungeons by night, and by day sells the treasure he finds in Moonlight. It's up to Will to resurrect his dying town, venture the dungeons, and find the key to unlock the fifth gate, which has never been entered.
Moonlighter is an RPG in which gameplay alternates between selling items to NPCs and a top-down dungeon crawler, both possessing an intermission time where you can upgrade the town, your store, and your equipment. It was successfully funded on Kickstarter, earning a whopping $134,276 out of its $40,000 goal. The game was released on May 29th, 2018, for PC, Xbox One, and PS4, with a Nintendo Switch port released in November 5th of the same year. An expansion pack, Between Dimensions, was released on July 23rd, 2019.
---
Tropes associated with Moonlighter include:
---