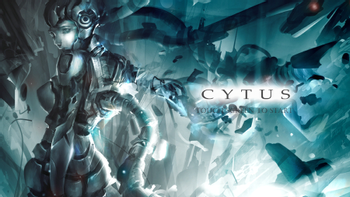 Cytus
is a
Rhythm Game
developed for
iOS
,
Android
,
PS Vita
note
and
Nintendo Switch
by Rayark.
The game can be described as a horizontal, non-splitscreen version of DJMax Technika: A black scan line scrolls up and down and you must hit notes as the line goes over them. Occasionally, there are "hold" notes that must be held down until the entire note passes, and "drag" notes where the note must be dragged as the line sweeps over it.
Cytus is available for 1.99 USD. Initially, Rayark adapted a "Million Downloads Plan": three chapters were initially available with the next two chapters being DLC purchases, and every 100,000 downloads would reveal a new chapter and unlock the oldest DLC-locked chapter, the idea being to reach 1 million downloads to provide roughly 100 additional songs total. This goal was met in March 2015, and as of Cytus 8.0, released in July 2015, all ten main chapters, as well as the special chapters Symphony, Knight, and Million are available for play upon purchase, with 149 songs across all of these chapters. The special chapters Prologue, Retro, Timeline and Deemo can be purchased separately for 4.99 USD each, alongside Night Keepers for 3.99 USD and L for 9.99 USD, bringing up the song count to 200 songs for roughly 36 USD.
The game features several different stories, told through music, visual eyecatches, and sometimes supplemental material:
Alive is the main story of the game, featuring a world where humanity has been wiped out by a virus and people undergoing voluntary Brain Uploading to live on as androids.
Knight is based off of the eyecatch for the Chapter V track "Holy Knight", and shows two childhood best friends becoming separated, with one becoming a knight and the other becoming the queen of a rivaling nation, with tragic results.
Timeline, composed by the Video Game Orchestra, tells the history of Taiwan and then continues into the future to tell a Green Aesop.
L is based off of ICE's "L" series of existing tracks, including "L" and "L2" from Chapter VII, and is about a conflict between the heavens and Earth and two boys who end up caught in the big picture.
An arcade Cytus game, Cytus OMEGA, was announced at the Japanese arcade expo JAEPO in February 2015, and location tests were held in July 2015. It went into Vaporware status before being ultimately canceled in 2018.
A sequel, Cytus II , was released on January 17, 2018 for iOS and March 7 for Android. It features two new note types, the "flick" note and a longer variation of the hold note, as well as charts where the scanline can change speed. It also has a new story, told more directly through in-universe internet posts.
An Updated Re-release of the original game by FlyhighWorks, Cytus α, was released for Nintendo Switch in digital format on April 25, 2019, and in physical format in Japan on the same day with the North American version to follow on May 14 and the European/Australian version to come at a future undetermined date. α includes the option to play with buttons (much like on VOEZ and Deemo on Switch, also Rayark games ported by FHW), an online matchmaking versus feature, an updated visual interface, and new songs including a DJMAX crossover chapter and an Omega chapter that includes songs from the cancelled Cytus OMEGA. Instead of chapters being DLC, each has to be unlocked by fulfilling certain conditions in a prior chapter.
---
Cytus contains examples of (story spoilers only hidden for locked tracks):
open/close all folders
General Tropes
Alive (all spoilers unmarked)
Knight (unmarked spoilers for the first eight songs except "The Fallen Bloom" ending)
Royal Blood: When Rosabell's parents are killed, she's forced to take up the throne that they were fatally removed from.
Secret Level: Differing from the usual Secret Levels in Cytus, Chapter K requires you to play through the first eight songs before you unlock the ninth and tenth song respectively. And yes, you have to play the ninth before you unlock the tenth.
Show, Don't Tell: Unlike the other stories, Knight doesn't really have a lot of text to describe what's happening, even in supplemental material; much of the story is shown in eyecatches and through song lyrics and is left to player interpretation.
Timeline (all spoilers unmarked)
L (unmarked spoilers for "L1" through "L8")